Hangzhou E-sports Center hosts first large-scale ticket selling event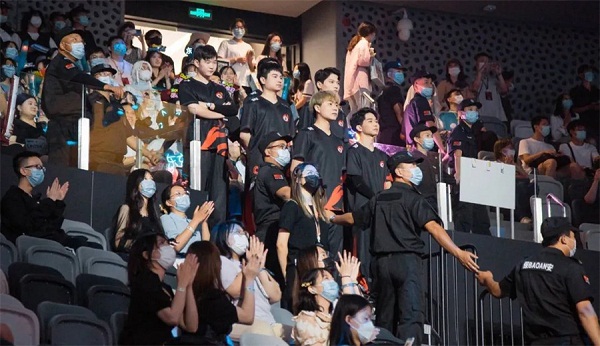 People cheer during the finals. [Photo/hangzhou2022.cn]
The four-day 2022 Identity V League Summer Split Finals concluded on Aug 21 at the China Hangzhou E-sports Center, the official venue for the e-sports events of the Hangzhou Asian Games, local media outlets reported.

It was the first large-scale ticket selling event since the official opening of the center.
More than 7,000 e-sports fans were on site at the finals and witnessed six IVL teams from across the country compete in eight games and share a prize pool totaling 2 million yuan ($292,200).
DOU 5, the champion team consisting of members Eleven, UpXi, BOBO, DongX, ZYJ, and YiHua, enjoyed a reward of 880,000 yuan.
The China Hangzhou E-sports Center will host the finals of e-sports competitions at the 19th Asian Games, including Dota2, HearthStone, League of Legends, and Street Fighter V. This is the first time in the history of the Asian Games that medals will be given out for e-sports.
Though the Asian Games were postponed, the venue, covering an area of 82,000 square meters, is still attracting international attention.
Its popularity lies in its unique features, including its iconic vortex-like ceiling, which won a gold medal for steel structures last year by applying tailored anodized aluminum panels and a motorized color-changing glass skylight to form double-curved surfaces.
The venue also features dimensional audio-visual equipment such as 240-sq-m tunnel screens at its center and 15 screens of 567 sq m on surrounding walls.
Cutting-edge sound and adjustable stage lighting equipment also make it possible for the venue to host sporting events, concerts, performances, and exhibitions in the future.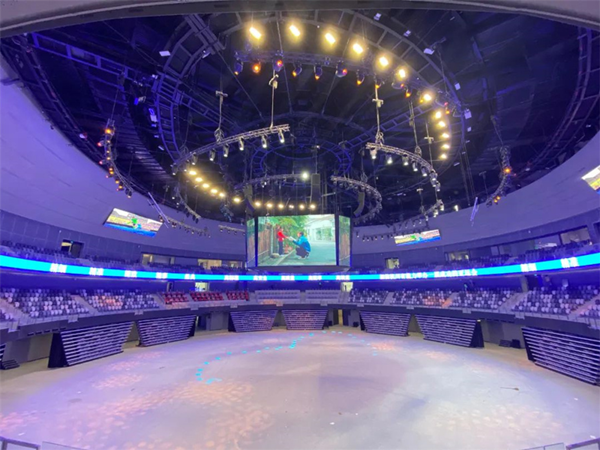 All screens and lights are on at the China Hangzhou E-sports Center. [Photo/hangzhou2022.cn]

August 4, 2023

July 27, 2023