Five Paralympic champions share life stories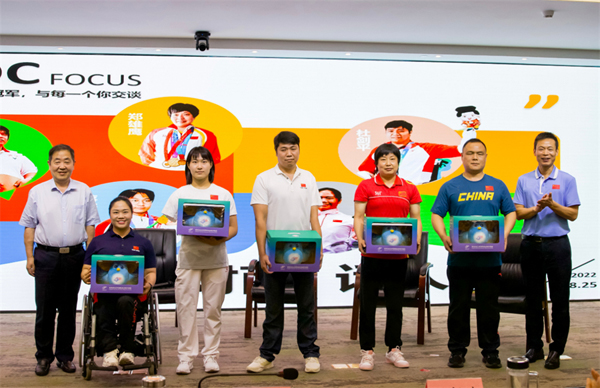 Five Paralympic Games champions pose for a group photo after the sharing session on Aug 25. [Photo/hangzhou2022.cn]
Five Paralympic Games champions shared their life stories with the Hangzhou Asian Para Games organizing committee on Aug 25, local media outlets reported.
Zheng Xiongying, a gold medalist of women's sitting volleyball in the 2004 Athens Paralympic Games, 2008 Beijing Paralympic Games, and 2012 London Paralympic Games, is currently helping with the operation of the Hangzhou Olympic Sports Center Stadium, the main venue of the Games, as well as with its opening and closing ceremonies.
"I used to receive help from volunteers. Now I want to return the favor. I've learned by heart the 196 barrier-free chairs and 25 private barrier-free restrooms at the stadium," Zheng said.
Du Jianping, a four-time Paralympic gold medalist, is also taking part in preparations for the Games.
"I'm trying my best to share what I've learned, seen, and thought of to improve accessible facilities at the venues," Du said.
August 4, 2023

July 27, 2023