Natural spectacle Qiantang Tidal Bore to wow spectators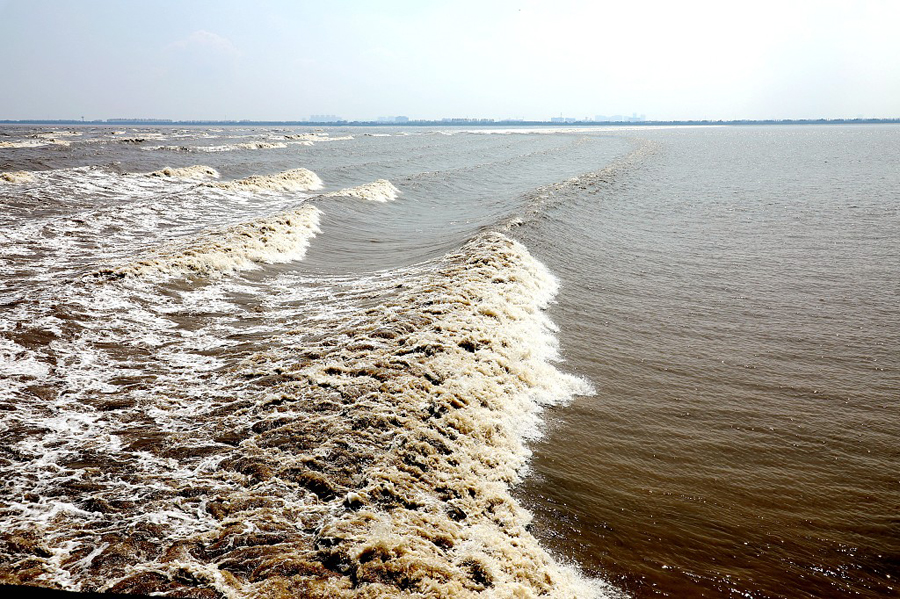 The spectacle ushers in the best time of the year for sightseeing with the advent of the Mid-Autumn Festival on Oct 1, 2020. [Photo/CFP]
Though East China's Hangzhou has gone through an unprecedented hot summer this year with less rainfall, the water flow of the Qiantang River, the city's mother river, was only slightly affected and will continue to present the annual natural spectacle known as the Qiantang Tidal Bore.
As the period around the 18th day of the eighth lunar month, which falls on Sept 13 this year, is the best time to watch Qiantang River's tidal bores, the Hangzhou Hydrology and Water Resources Monitoring Center has estimated the maximum tide height this year to be around 1.4 meters and recommends people come to witness it.
Xiaoshan Tide Watching City and Qibao village are the best sites to watch back-flow bores, which are created by bores strongly crashing against the levee and producing waves which are even higher than the levee.
Xiasha Bridge, Hangzhou City Balcony, and Nanxing Bridge are the best sites to watch one-line bores, which are most magnificent when watching from the sky with waves rolling forward at the same speed to form one long and straight line.
August 4, 2023

July 27, 2023