Hangzhou made permanent site of China International Tea Expo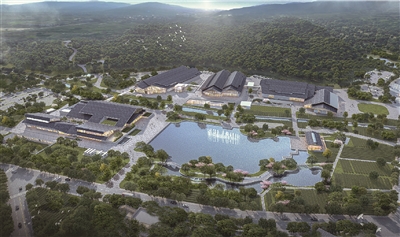 A rendering of the conference and exhibition center of the China International Tea Expo in Hangzhou, East China's Zhejiang province. [Photo/hangzhou.com.cn]
Hangzhou in East China's Zhejiang province recently unveiled the planning and rendering of the conference and exhibition center of the China International Tea Expo, which will serve as the permanent site of the event.
The site, which will start construction in Xihu district within the year, will cover a total area of nearly 200,000 square meters, equivalent to 28 football fields, and consist of three exhibition halls and a conference center, a pond, and several supporting facilities.
The center's architectural style combines modernity with the ancient square ridge design popular in Jiangnan, a region south of the Yangtze River. The building cluster will mimic the undulations of mountains in Longwu tea town to fit in with the local style.
Each pavilion has two to three floors above ground, with some of the buildings being designed with sunken courtyards. Gardens and tea fields surround a pond at the center of the landscape.
The center is expected to work as a platform for international exchange and cooperation and help Longwu tea town become "China's first tea town" by promoting the China International Tea Expo.
August 4, 2023

July 27, 2023