New measures ensure food safety for large sporting events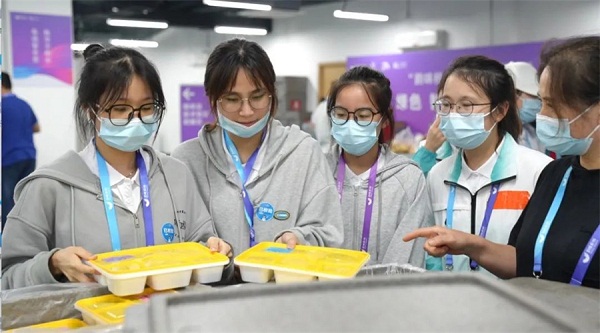 Staff members receive their food at the Huanglong Sports Center during the 2022 National Gymnastics Championships. [Photo/hangzhou2022.cn]
As the 2022 National Gymnastics Championships have drawn to an end in Hangzhou, East China's Zhejiang province, the catering service provided by the local Huanglong Sports Center, which can serve 700 people at once, has become an online sensation.

The organizing committee of the event has attached much importance to food safety. It has uploaded the information of all ingredients to the Zhejiang provincial food cycle supervision system and Asian Games online catering intelligent supervision platform, ensuring safety in every step, from cooking and packaging to food delivery.
Hangzhou Cuisine, an important branch of Zhejiang Cuisine characterized by a salty yet tender and sweet taste, was also served at the event, offering athletes, coaches, volunteers, correspondents, broadcasters, and venue staff members an authentic taste of Hangzhou.
Instead of ordering food at different windows, the event has embedded online order functions within a WeChat mini app, enabling diners to reserve their food in advance without waiting for a long time at various windows.
At the entrance of the cafeteria, people can also book their food via several self-service machines. It took just three minutes after ordering for them to receive their meals.
All food boxes and tableware were made of degradable materials and were reclaimed to make the event more environmentally friendly.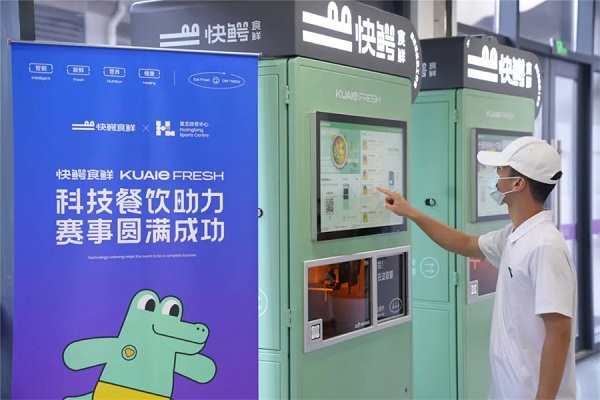 A man orders food via a self-service machine at the entrance of the cafeteria. [Photo/hangzhou2022.cn]

August 4, 2023

July 27, 2023