Hangzhou Asian Games opens conference for sponsors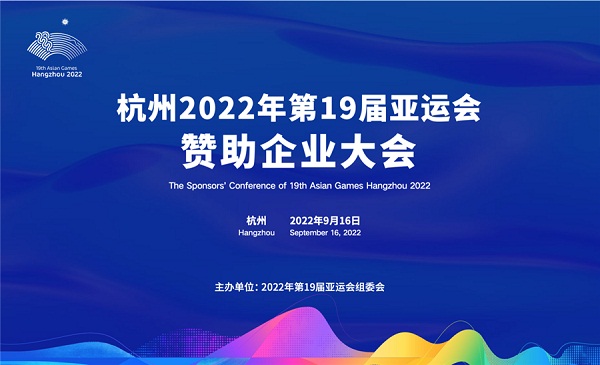 The Sponsors' Conference of the 19th Asian Games Hangzhou 2022 opens on Sept 16. [Photo/hangzhou2022.cn]
The Sponsors' Conference of the 19th Asian Games Hangzhou 2022 opened on Sept 16, engaging representatives from all sponsors as well as officials of the Games organizing committee, local media outlets reported.

The conference aimed to enhance the committee's exchanges and cooperation with sponsors, improve their service capabilities, and highlight the principle of hosting a united Asian Games.
The committee announced the fifth group of 34 non-exclusive sponsorship enterprises for the Games at the event, covering 24 different categories such as quick-frozen food, property service, electric bicycle, and online branding.
The total number of sponsorship enterprises of the Hangzhou Asian Games has reached 145 in 97 categories, and that of the Hangzhou Asian Para Games has reached 114 in 74 categories, setting new records for the Games.
The committee also released a branding plan for sponsoring enterprises, helping them sort out publicity plans throughout the Games as well as rolling out specific requirements on marketing and the protection of legal rights and interests.
The committee also held a sharing session that same day, inviting Alibaba, the official partner of the Games and the domestic e-commerce giant, to introduce the green and low-carbon strategy it has been following and invite sponsoring enterprises to form a "green alliance of Asian Games sponsors" together.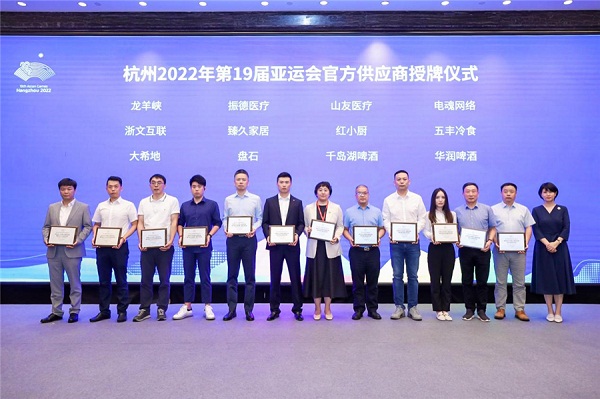 A group of 34 non-exclusive sponsorship enterprises for the Games is licensed at the event. [Photo/hangzhou2022.cn]

August 4, 2023

July 27, 2023