Hangzhou football ushers in a golden era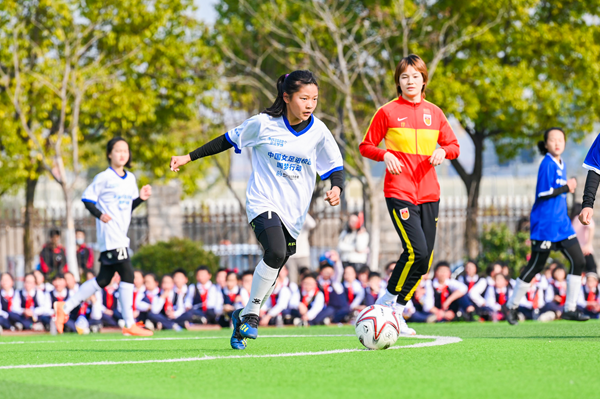 Chinese women's football team members play football with young female football players of the Hangzhou Jingcheng Experimental School. [Photo provided to chinadaily.com.cn]
Hangzhou in East China's Zhejiang province was listed as a national key city for football development during the 14th Five-year Plan (2021-25) period, according to a notice published by the General Administration of Sport of China on Sept 14, local media outlets reported.

Hangzhou will further improve its working mechanism and offer sufficient funds and space to make sure that various tasks can achieve practical results and play model roles in football development.
A delegation from the general administration visited Hangzhou from July 24 to 27 to investigate the city's football development and conducted field research on schools, football bases, and gymnasiums. Hangzhou's efforts in maximizing the urban space for daily exercise of local residents have won praise from the delegates.
The number of football professionals, including coaches, athletes and judges that registered through various football events in Hangzhou since 2015 has exceeded 50,000.
Hangzhou has also brought up a number of championship teams, such as the Hangzhou Wuyue Qiantang Football Club, which won the champion in the National Games 2017, and the Hangzhou Women's Football Team, which was the runner-up in the National Games 2021.
In the penultimate round of the 2022 Women's Football League Championship Group on Sept 14, the Hangzhou Women's Football Team was four points ahead of third place and returned to the Women's Super League one round early. The team is expected to win the champion this time.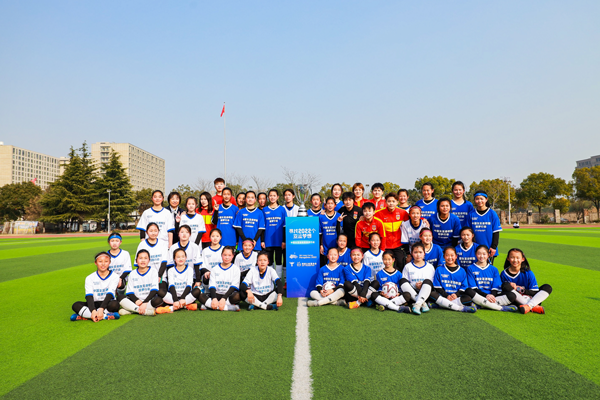 Young female football players from Hangzhou Jingcheng Experimental School pose with the Chinese women's football team, which was visiting with the Asian Cup championship trophy they lifted in February. [Photo provided to chinadaily.com.cn]

August 4, 2023

July 27, 2023