Hangzhou Asian Games issues commemorative banknotes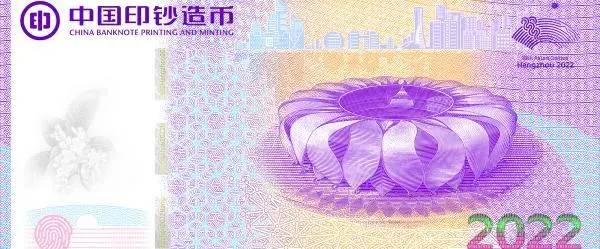 Banknotes are designed with the Hangzhou Olympic Sports Center Stadium, or Big Lotus, which are the venue for the opening and closing ceremonies of the event. [Photo/thepaper.cn]
Sept 23 marks the one-year countdown until the 19th Asian Games, which was postponed and rescheduled by the Olympic Council of Asia to take place in Hangzhou, capital of East China's Zhejiang province, and will run from Sept 23 to Oct 8, 2023.
To celebrate the day, the organizing committee of the Hangzhou Asian Games joined hands with China Banknote Printing and Minting to issue a series of commemorative banknotes on Sept 23.
The commemorative banknotes are mainly decorated with characteristic elements of Hangzhou and the Asian Games, such as the Hangzhou Olympic Sports Center Stadium, or Big Lotus, which is the venue for the opening and closing ceremonies of the event, the three mascots Congcong, Chenchen, and Lianlian, and local landmarks West Lake, the Broken Bridge, and the Archaeological Ruins of Liangzhu Culture.
Advanced anti-counterfeiting printing technology, such as engraved intaglio printing and optically variable ink, has also been applied to the notes.
There are four sets of commemorative banknotes: the single, double and quadruple notes, and a full page of 24 notes, which are being limitedly issued in 50,000 sets, 19,000 sets, 10,000 sets, and 3,000 sets, respectively.
August 4, 2023

July 27, 2023