From Jiangxi to Zhejiang: Shi Dan's journey in hairstyling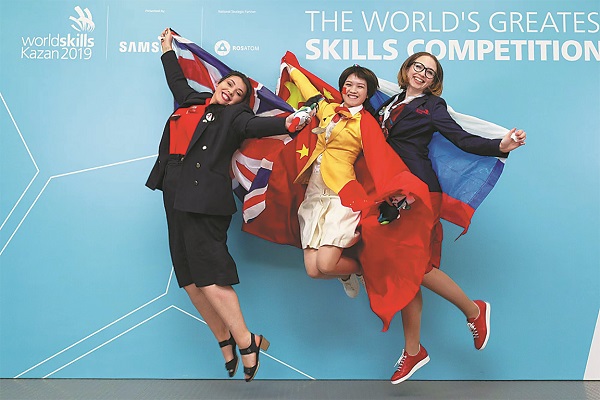 Shi Dan won the gold medal in hairstyling at the 45th WorldSkills Competition in Kazan, Russia, in August 2019. The event is a vocational education and skills excellence event where young specialists aged 25 and younger compete for medals in their chosen skill. [Photo for China Daily]
The 24-year-old shares her story of inheriting a revolutionary spirit, how it helped propel her to become a world champion and her decision to enter into public service.
Shi Dan, a 24-year-old from Shangrao, Jiangxi province, took several years to become a world champion and has since settled in Hangzhou, East China's Zhejiang province.
Shi won the gold medal in hairstyling at the 45th WorldSkills Competition in Kazan, Russia, in August 2019.The event is a vocational education and skills excellence event where young specialists aged 25 and younger compete for medals in their chosen skill, which was organized every two years by WorldSkills International to showcase the best in skills and promote careers for youths.
Born in an old revolutionary area in Jiangxi province, Shi inherited the revolutionary spirit of the Jinggang Mountains — a spirit that values faithfulness, perseverance, reason and the people.
After graduating from junior high school, Shi failed to enter her preferred high school, so her parents insisted on seeking new learning opportunities for her.
Hangzhou is renowned as the "Oriental Leisure Capital", and its government has listed the beauty and hairstyling industry as one of the ten characteristic industries with the greatest potential for development.
In the summer of 2013, Shi and her parents left their hometown for Hangzhou to study hairstyling, which later became her life-long career pursuit.
During the process, Shi's affection for hairstyling changed from just learning a craft to a deep love. "I'm very lucky to meet my teacher, Ji Zhenglong, a national-level hairstyling expert. He and my school led me on the path of the hairstyling profession," said Shi.
"Hairstyling is not only a skill for making a living but also the pursuit of excellence," Shi added.
August 4, 2023

July 27, 2023