Hangzhou listed among world's top 10 bicycle-friendly cities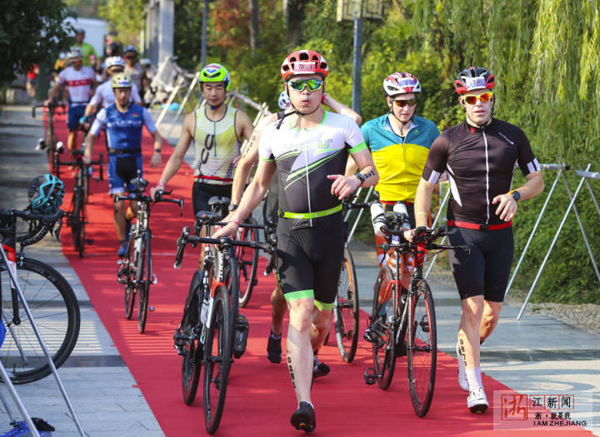 Triathletes get ready to compete in the cycling segment of the 2021 STC Qiandao Lake 113 Triathlon that took place in Chun'an county, Hangzhou on Oct 31, 2021. [Photo/zjol.com.cn]
Hangzhou, capital of East China's Zhejiang province, ranked seventh on the Global Bicycle Cities Index 2022, making it the only non-European city in the top tier.

The study, conducted by the digital insurance company Luko, has analyzed 90 cities across the globe based on six indicators: weather, bicycle usage, urban safety, infrastructure, bike sharing accessibility, and environmental protection awareness.
Dutch city Utrecht has been named the world's most bicycle-friendly city, while eight other European cities made the top 10 list.
Hangzhou got high scores on bike sharing accessibility thanks to the city's "red bikes", a bike sharing system that has been serving the city for 14 years. The Hangzhou Public Bicycle was the first bike-sharing system in China and also the largest of its kind in the world, with thousands of red bikes operating at over 3,700 stations.
The system was digitalized in March 2018, introducing smart lock technology and enabling riders to park bikes in dedicated areas next to bike docks if there is no vacancy. Bluetooth geofencing devices were installed in dedicated parking areas and displayed on mobile apps.
People can also bind mobile phones with their Hangzhou citizen card or bus pass that has the public bike rental function activated to rent a red bike without paying a deposit online. One can scan the QR code on the bike via the app or the WeChat mini program to rent or return a bike.
The system has adopted the concept of "the last kilometer" to make sure that users can easily ride bikes to get from public transportation stops to their final destinations. In addition, family bikes are available for parent-child riders.
August 4, 2023

July 27, 2023