Xiaoshan to build an art school with no boundaries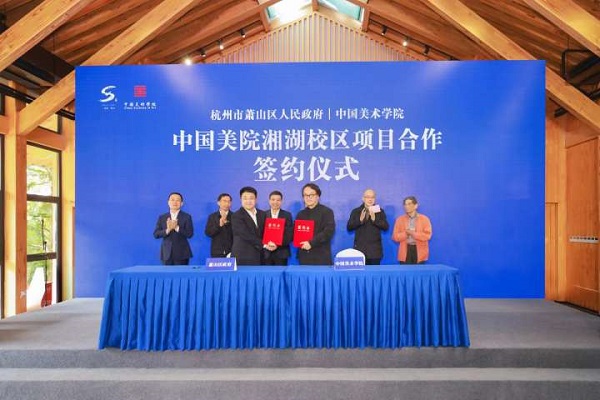 The China Academy of Art and Xiaoshan district in Hangzhou, East China's Zhejiang province sign an agreement for a new campus on Oct 14. [Photo/zjol.com.cn]
The China Academy of Art and Xiaoshan district in Hangzhou, East China's Zhejiang province, signed an agreement on Oct 14 to jointly build the School of Chinese Classics Xianghu Campus.

The new campus, located next to the picturesque Xianghu Lake, is expected to include several research centers, a museum of Chinese paintings and calligraphy, and a Xianghu Museum Garden. It will mainly focus on postgraduate and doctoral education.
Xianghu's connection with CAA started 94 years ago, when respected educator Cai Yuanpei founded the National Academy of Arts, the predecessor of CAA, by the lake, marking the origin of higher education in art in China. The same year, Tao Xingzhi, another educator, founded the Xianghu Normal University on the other bank of the lake. The two colleges cultivated generations of visionary people.
"It was in tribute to the two educational pioneers that we set the new campus on the bank of Xianghu Lake," said an official from CAA.
The new campus will be both physically open, with the Xianghu Museum Garden being open to the public, and ideologically open , as it will open the minds of students and teachers and create an inclusive campus atmosphere.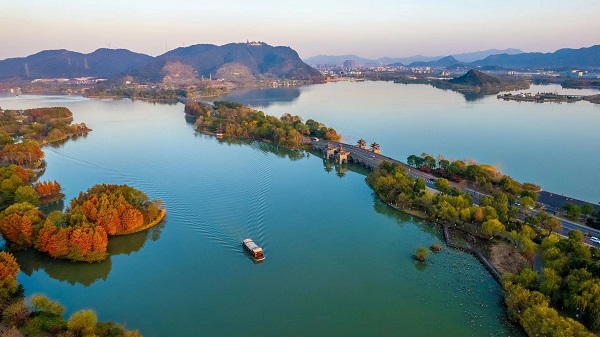 A bird's-eye view of Xianghu Lake in Xiaoshan district, Hangzhou. [Photo/zjol.com.cn]
August 4, 2023

July 27, 2023