A future-proof view of past glories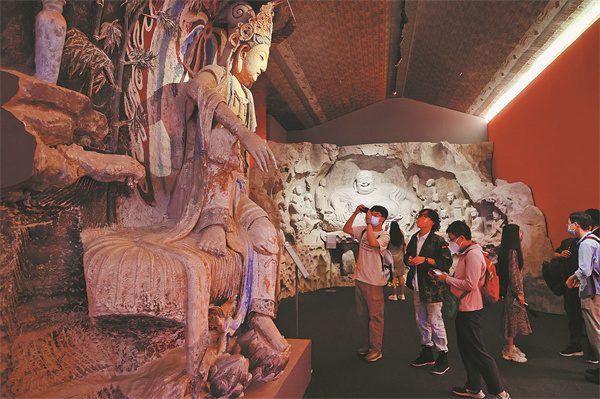 3D-printed replicas of statues from one of the Anyue Grottoes in Sichuan province. [Photo provided by Jiang Dong/For China Daily]
An ambitious 17-year project realizes an unprecedented gathering of legendary Chinese art, aided by digital technology and 3D printing, Lin Qi reports.
The Song Dynasty (960-1279) produced a rich trove of artworks that present a beautiful simplicity and a high level of taste. The finer specimens of Song art have endured and remain irresistible to people today. One recent example of this was the rare display, in 2017, of A Panorama of Rivers and Mountains (Qianli Jiangshan Tu), an 11-meter-long scroll painting by Wang Ximeng, a prodigy who lived between the late 11th and early 12th centuries.
Wang was only 18 when he completed this masterpiece of Chinese blue-green landscape painting, under the tutorship of Emperor Huizong, a renowned artist and a discerning collector and sponsor.
It is little wonder that, when this work appeared for a public viewing at an exhibition of blue-green landscape paintings of ancient China at the Palace Museum, where it has been housed for decades, people flocked to get a brief glimpse of the masterpiece, and the Palace Museum had to set a daily cap on the number of viewers.
Few would have known that A Panorama of Rivers and Mountains was rolled out for viewing on Jan 5, 2009, to a limited group of visitors from Zhejiang province.
When people just returned from the New Year holiday, a team comprising members from Zhejiang University and the province's cultural heritage bureau arrived in Beijing. They joined their counterparts at the Palace Museum for an important undertaking: moving the painting out of storage, unfolding it, and taking high-resolution digital pictures of it.
Wang Xiaosong, one of the team members and deputy dean of the School of Art and Archaeology at Zhejiang University, vividly remembers the atmosphere of excitement and tension when people, holding their breath, slowly unrolled the famous painting.
"The last time this 900-year-old piece of art had been taken out for photographing was in 1992, 17 years earlier. The mineral pigmented palette of the painting is delicate, and every time it is exposed to light and air, there is a certain, predictable amount of loss in its color," Wang Xiaosong says.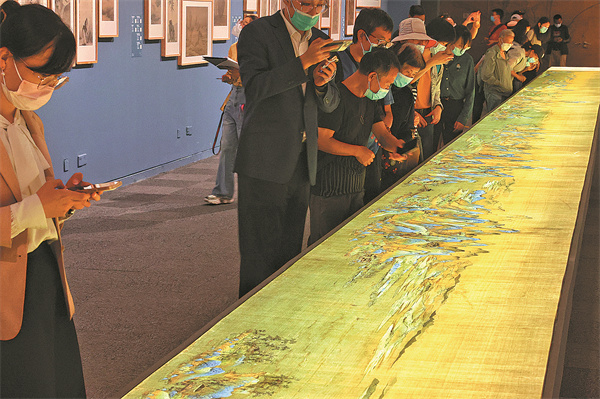 A digital replica of A Panorama of Rivers and Mountains, twice the size of the original piece. [Photo provided by Jiang Dong/For China Daily]
He says that the painting was unrolled under the supervision of experts of the Palace Museum, who were ready to make repairs if needed.
"To our relief and surprise, the colors were intact. The brilliance of it took our breath away," he adds.
Now, people in Beijing can share this same feeling of awe, as a digital replica of the artwork, twice the size of the original piece, is on show at the National Museum of China.
This reproduction is one of the highlights of Compilation of Classics in the Flourishing Age, a long-term exhibition that forms part of an ambitious project — the book A Comprehensive Collection of Ancient Chinese Paintings — that has taken Wang Xiaosong and his team some 17 years to accomplish.
When they visited the Palace Museum to digitalize Wang Ximeng's masterpiece, the group's members were on the verge of completing the compilation of a whole collection of Songera paintings, a process that had begun in 2005.
And yet, it proved to be just the first few steps of a much longer march. In the years that followed, the publication project extended to encompass a much wider scope that included paintings from the Yuan (1271-1368), Ming (1368-1644) and Qing (1644-1911) dynasties, as well as paintings dating back to the Tang Dynasty (618-907) and earlier.
The final collection of 60 volumes catalogs over 12,400 classic paintings, made primarily on paper, silk or linen, which are in the collections of 263 museums, galleries and other cultural institutions both in China and around the world. This massive collection of works was unveiled to the public in March at an exhibition at the Zhejiang Art Museum in Hangzhou.
The ongoing exhibition at the National Museum of China shows high-fidelity prints and digital images of over 1,700 works featured in A Comprehensive Collection of Ancient Chinese Paintings.
Visitors will first enter an area where the volumes are on display for them to flip through. Then they will be ushered on a journey through time, in a space of some 6,000 square meters. They are to attend an unprecedented gathering of some of the greatest Chinese artworks in history, for example, Court Ladies Wearing Flowered Headdresses (Zanhua Shi-nyu Tu) by Tang-era painter Zhou Fang and currently part of Liaoning Provincial Museum's collection, and Dwelling in the Fuchun Mountains (Fuchun Shanju Tu), a legendary piece by Yuan-era artist Huang Gongwang that was torn in two, the pieces of which are now respectively part of the collections of Zhejiang Provincial Museum and the Palace Museum in Taipei.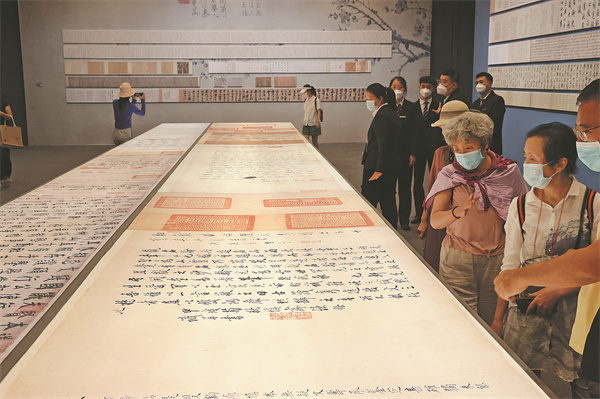 A printed sample of Passages of Di Huang Tang by 4th-century calligrapher Wang Xianzhi. [Photo provided by Jiang Dong/For China Daily]
Buddhism-themed paintings that reflect cultural exchanges between China and the rest of the world along the Silk Road also constitute an important chapter of the exhibition. To enrich people's knowledge of this special part of Chinese art, 10 3D-printed scale models that replicate Buddhist caves, niches and statues at renowned sites such as Dunhuang's Mogao Grottoes in Gansu province and Longmen Grottoes in Luoyang, Henan province, are on display.
Wang Xiaosong, also the exhibition's co-curator, says that digital aids have allowed people to enjoy a similar experience to woyou ("traveling without moving"), a pastime popular among ancient intellectuals. "While people walk between these paintings on the walls or displayed on digital screens, they are able to feel, like our ancestors described, as if they were surrounded by real landscapes, and their hearts and minds will be set free, even though they don't physically stray far from home.
"The exhibition not only traces the evolution of Chinese art throughout the centuries, but also builds a spiritual haven where people will see the infinite magnificence of our cultural traditions."
The project took the team to cultural institutions both around the country and across the world, a process described as "fishing for a needle in the sea" by Jin Xiaoming, a professor of the School of Art and Archaeology at Zhejiang University, with expertise in classic Chinese painting and calligraphy.
He says that a primary basis of their work is The Catalog of Ancient Chinese Painting and Calligraphy, a landmark reference book for scholars and collectors from the 1980s. It catalogs works once appraised and authenticated by a group of respected connoisseurs, hailed as "the nation's eyes to spot treasures", such as Xie Zhiliu, Qi Gong, Xu Bangda and Liu Jiu'an.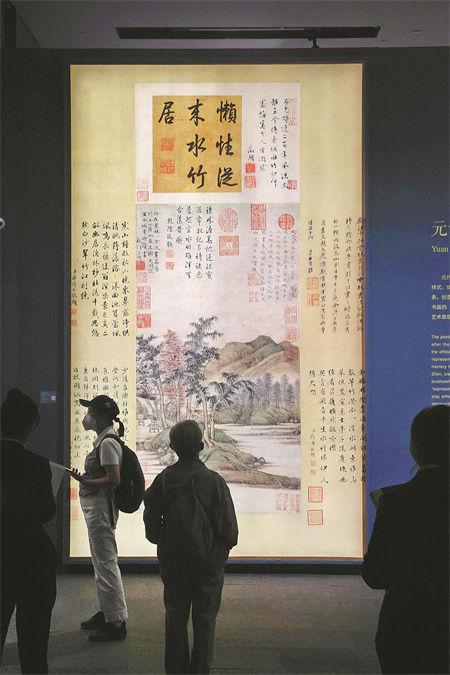 A printed sample of The Water-Bamboo Dwelling by Yuan Dynasty artist Ni Zan. [Photo provided by Jiang Dong/For China Daily]
"The catalog offers a glimpse of the collections at home, and also documents divided opinions among those prominent experts," Jin says. "Years have passed. New technologies are in hand to offer help for authentication and preservation; deepening exchanges between China and the world have allowed us to learn more about the collections of Chinese art abroad."
He says that thanks to communication with scholars in different countries and their connections with museums, the team was able to access overseas collections of Chinese art, some of which were previously known to very few.
Foreign museums involved include those that have been well-known for their diverse assemblages of Chinese art, such as the Metropolitan Museum of Art in New York and the Cleveland Museum of Art in Ohio in the United States, and the British Museum in London. There are also lesser-known collections, such as the one at Chion-in Temple in Kyoto, Japan, which houses paintings of noted Ming-era artist Qiu Ying.
"We have relied on the fruitful work of our predecessors. Meanwhile, we hope our work will benefit researchers today and in the future," Jin says. "More importantly, what we've done is to build a national archive available for the younger generation, so that they will be proud of their country and cultural roots."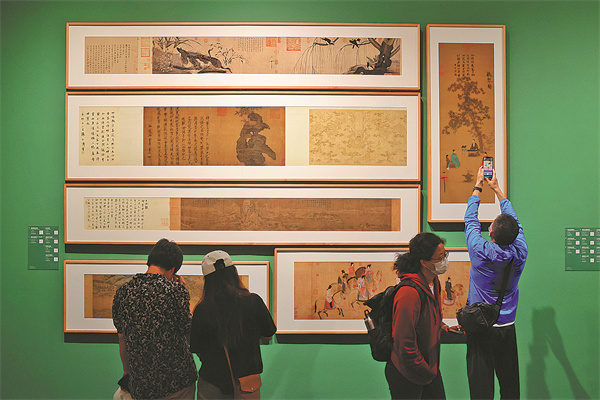 More examples of the 1,700 works featured in the book A Comprehensive Collection of Ancient Chinese Paintings. [Photo provided by Jiang Dong/For China Daily]
Zhou Lin, a narrator at the exhibition and a teacher at Jiaxing University in Zhejiang province, says that she is impressed by how much the project has motivated audiences. She says that one couple showed particular interest in the mineral pigments used in A Panorama of Rivers and Mountains and asked a lot about it.
One visitor told her that it would be nice to apply the fine color arrangement of A Picture of Auspicious Cranes (Rui He Tu), a painting by Emperor Huizong of the Song Dynasty, on modern clothes. And when Zhou was introducing Ink Plum by Yuan Dynasty artist Wang Mian, a child gave a fluent recitation of the well-known poem on the painting.
Zhang Yilin, a photographer working on the project, says that he was a student at the China Academy of Art in Hangzhou when he joined the team in 2006. He says that a major reason for him to continue the undertaking over the years is the opportunity to see many significant and rare artworks. "Now, more people can see them because of the information and data we've collected — that gives our work great meaning," he says.
If you have any problems with this article, please contact us at app@chinadaily.com.cn and we'll immediately get back to you.
August 4, 2023

July 27, 2023