Digital torchbearer marks 300-day countdown to Hangzhou Asian Games
[Video provided to ehangzhou.gov.cn]
As Nov 27 marks the 300-day countdown to the 19th Asian Games Hangzhou 2022, the Games' organizing committee launched a digital torchbearer to observe the big day.

The digital identity can be obtained by users by taking part in activities arranged within an integrated service mini-program developed by the organizing committee for the Games. Every user will have an exclusive digital identity.
The activities mainly involve sports, public welfare, and environmental protection.
Running to 2022 and being the Asian Games torchbearer was one of the most popular online events of the mini-program, where users who complete virtual tours of cities across the globe will have the opportunity to become an actual Asian Games torchbearer.
The digital identity offers new possibilities for the public to engage in the sporting event and encourages them to take part without time or spatial limits.
In addition to the identity, users are able to dress up their digital characters with the same outfit of an actual torchbearer and hold the Eternal Flame, the torch for the Games.
According to the organizing committee, more online torch relay activities will be held in the future. Participants will receive digital certificates and have the opportunity to win a ticket for the Games.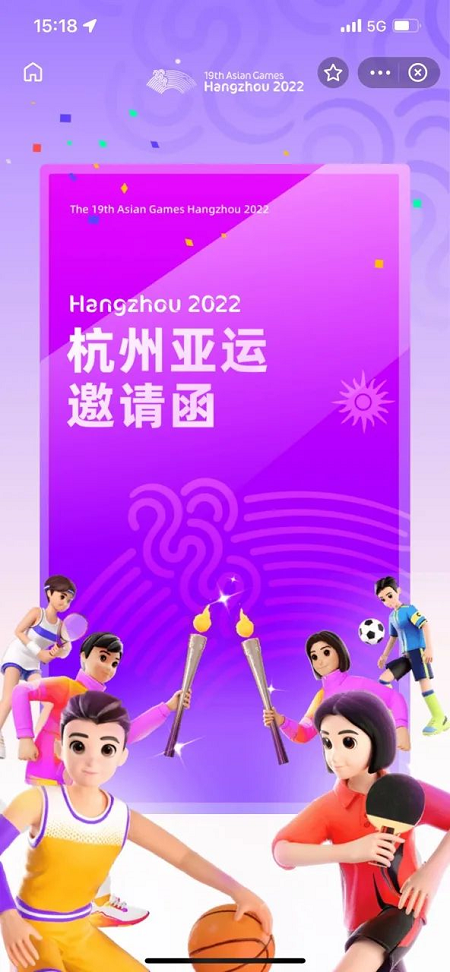 The general public is invited to participate in the Hangzhou Asian Games. [Photo/hangzhou2022.cn]

August 4, 2023

July 27, 2023