Largest cloud computing HQs in Asia: Alibaba Cloud Valley opens in Hangzhou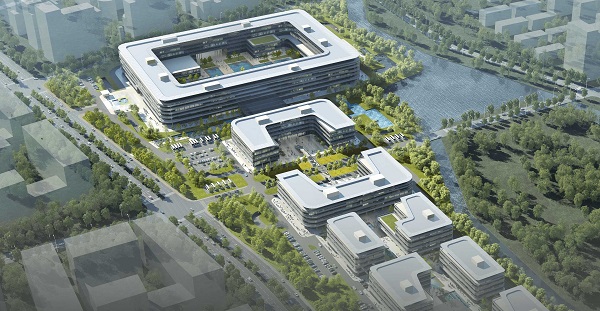 A rendering of the Alibaba Cloud Valley Park. [Photo/aliyun.com]
The Alibaba Cloud Valley Park, the new headquarters of tech giant Alibaba Group's cloud computing arm Alibaba Cloud, was recently put into operation, local media outlets reported.
Based on interconnectivity, diversity and vitality, the park aims to create a model for future high-end office parks.
The park was designed by the German HPP Architects, and the building is inspired by the Alibaba Cloud Logo, which features a rectangular ring layout. All service spaces face the inner courtyard. The corridors connect all important nodes, allowing employees to shuttle through the inner courtyard. The plane division is based on the principle of large space division between departments and effective vertical traffic. All core tubes are arranged on the inner side of the rectangular interface to ensure effective office spaces.
It is said that during the day, the park looks like a university campus and is peaceful and quiet, but after lighting up at night, it livens up and forms a strong contrast with its surroundings.Its regular layout and pure white light are a perfect fit for Hangzhou.
The façade of the building features a full glass curtain wall, and it features attractive landscapes, allowing employees to relax after work. At night, the indoor lights pass through the glass curtain wall, conveying the high-end technological attributes of Alibaba Cloud in the form of internal light transmission.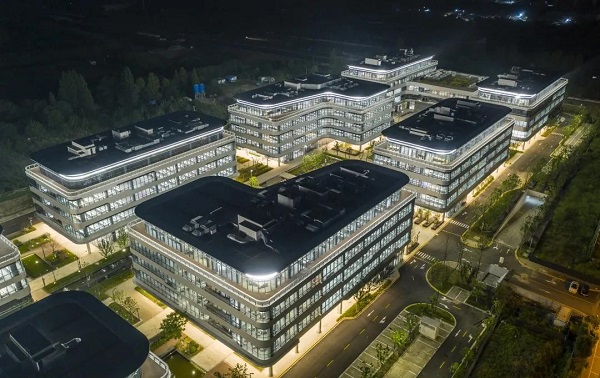 The park is illuminated at night. [Photo/aliyun.com]

August 4, 2023

July 27, 2023