New light shed on beginnings of Chinese civilization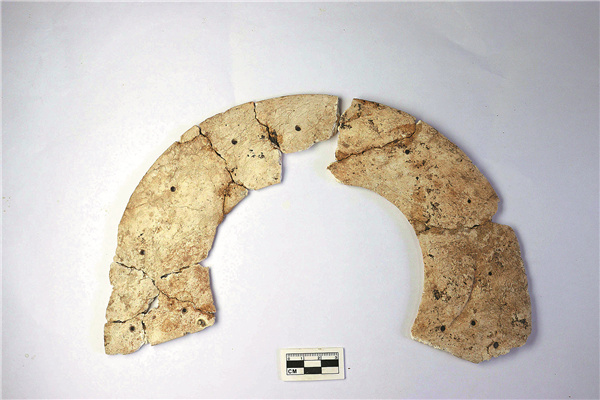 An arc-shaped jade ornament known as huang was unearthed at the Lingjiatan site in Hanshan county, Anhui province. [Photo provided to China Daily]
Archaeologists enjoy fruitful year with series of discoveries
While jade holds vital clues to civilizations in China dating back thousands of years, it also plays an important role in present-day life.
Last year, a ceremonial jade artifact known as a bi was the inspiration for the medals presented at the Beijing 2022 Winter Olympics that bore concentric circle designs. The artifact was unearthed at the Lingjiatan site alongside the Yangtze River in Hanshan county, Anhui province.
The site, which is 5,300 to 5,800 years old and was first excavated in 1987, continues to provide researchers with surprises.
Last month, new discoveries at the site were announced by the Anhui Provincial Institute of Cultural Relics and Archaeology. Covering an estimated 1.6 square kilometers, the site is home to the ruins of human settlements, and is the largest of its kind in the lower reaches of the Yangtze.
The discoveries included an arc-shaped jade ornament known as a huang. It is 23.6 centimeters in diameter and the largest such item found at a Chinese archaeological site from the Neolithic period, which in China dates back 4,000 to 10,000 years. Another slim jade artifact with a chubby dragon's head at one end, also attracted archaeologists' attention due to its design, which had not been seen before.
Since 2020, the foundations and charred earthen ruins of a huge structure for public use, estimated to cover more than 5,500 square meters, have been gradually unearthed at the site. Other key findings include pottery shards and a stone yue — an axe-shaped ceremonial artifact indicating power, and the largest of its type from China's Neolithic period.
August 4, 2023

July 27, 2023