New light shed on beginnings of Chinese civilization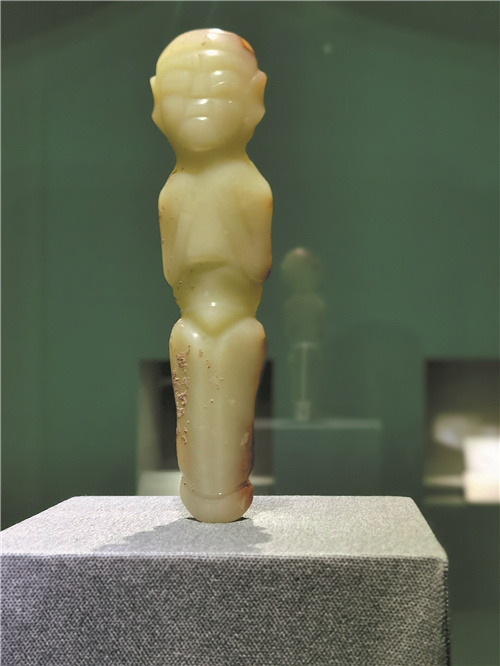 A jade figurine excavated at the Niuheliang site in Chaoyang, Liaoning province. [Photo by Wang Kaihao/China Daily]
Efforts urged
Numerous mysteries still surround early civilizations in China, but archaeologists' work in recent decades has provided vital clues to the past.
Presiding over a group study session of the Political Bureau of the Communist Party of China Central Committee in May, Xi Jinping, general secretary of CPC Central Committee, urged further efforts to advance the studies of Chinese civilization to help boost the nation's cultural confidence.
Last year marked the 20th anniversary of a national research program dedicated to tracing the origins of Chinese civilization. Some 400 scholars nationwide working in 20 natural and social sciences disciplines have taken part in the program, with archaeologists playing the main roles.
Four archaeological sites dating from between 3500 BC and 1500 BC — Taosi in Shanxi province, Shimao in Shaanxi province, Erlitou in Henan province, and Liangzhu — have been the focus of related studies. Numerous other major ruins from this period, mainly along the Yangtze, Yellow and Liaohe rivers, have also been highlighted.
Along with the Lingjiatan site, many others yielded rewarding discoveries last year.
At the Niuheliang site in Chaoyang, Liaoning province, which is 5,000 to 5,500 years old, archaeologists discovered nine symmetrical stone platforms on a mountain, well-equipped drainage facilities and relics used for rituals.
Jia Xiaobing, a researcher at the Chinese Academy of Social Sciences' Institute of Archaeology, who worked at the site, said other constructions may have been used for different functions. "The overall design of such a large-scale construction project demonstrates a society's ability to mobilize and organize," he said.
At the Bicun site in Lyuliang, Shanxi, which is about 50 km from Shimao, ruins that are 3,800 to 4,200 years old are thought to have marked the frontier of a regional power, and probably played a crucial role in a complicated defensive system.
Zhang Guanghui, a researcher at the Shanxi Archaeology Academy who led the ongoing excavation, said, "There might have been a key strategic route connecting Central and Western China, which was pivotal for society at the time."
August 4, 2023

July 27, 2023