New light shed on beginnings of Chinese civilization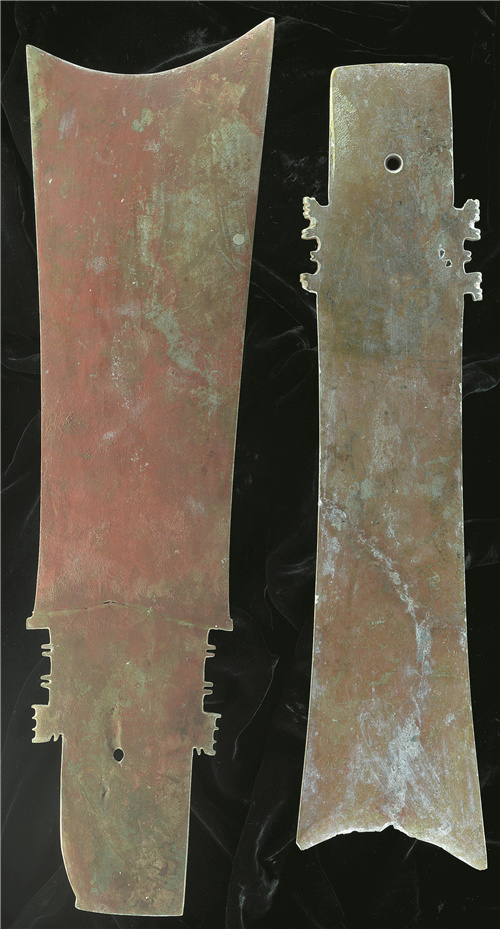 Ceremonial jade blades, known as yazhang, were unearthed at the Erlitou site in Yanshi, Henan province. [Photo provided to China Daily]
Cultural core
Throughout history, the Central China Plains, also known as Zhongyuan, which are mainly located in Henan, were considered the cradle of Chinese civilization, mainly due to ancient documents recording the area's glorious past.
But in recent decades, excavations nationwide have largely changed public perception of this concept, with archaeologists now comparing the infancy of Chinese civilization to a starry night sky.
In 2020, the 5,300-year-old Shuanghuaishu site in Gongyi, Henan, became arguably one of the most rewarding discoveries for those exploring the origins of Chinese civilization in recent years.
Covering more than 1.17 sq km, the site yielded the ruins of what may have been a national capital with moats, public graveyards, a large-scale residential area, sacrificial altars, along with many other key heritage findings. An exquisite ivory silkworm sculpture provided crucial clues to the origins of silk.
Further studies at the Huangshan site in Nanyang, Henan, attracted public attention last year.
A large complex of ruins dating back 4,000 to 7,000 years depicts a crossroads of cultures.
Yuan Guangkuo, an archaeology professor at Capital Normal University, said numerous jade processing workshops, residential compounds, and the ruins of canals and piers provide a picture of a grand transportation network that involved mining, the handicraft industry and jade production.
In addition, various cultural elements from the Yellow River to the north and the Yangtze River to the south were found at the Huangshan site.
"These findings expand our knowledge of Chinese jade," Yuan said. "They are also an example of how a society became complex as it absorbed different cultural elements and stepped into an era of civilization."
When the Erlitou site emerged in Henan about 3,500 years ago, the Central China Plains became the "brightest star in the sky". Usually considered the capital city of the Xia Dynasty (c. 21st century-16th century BC), the first central Chinese dynasty recorded in history, the site marked the initial boom of Chinese bronze civilization.
Wang, from the Chinese Academy of Social Sciences, said: "A united community was gradually formed in China through lasting interactions among various regions. Regional cultures became part of a grand melting pot of civilization and the Central China Plains finally rose to the fore as advanced elements from elsewhere emerged in Erlitou."
August 4, 2023

July 27, 2023