Traditional Lantern Festival celebrations promote Chinese culture's global influence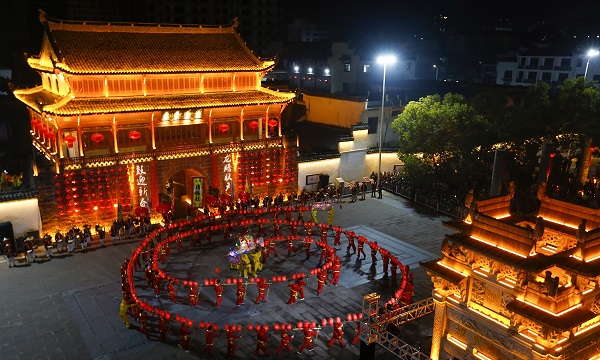 People perform the traditional bench dragon dance ahead of the Lantern Festival, on February 1, 2023 in Huangshan, East China's Anhui Province. Photo: VCG
Editor's Note:
With the 2023 Lantern Festival coming on Sunday, diverse celebrations are being prepared around the world for the traditional carnival. Marking the first full moon of the year according to the Chinese calendar, the festival is a time when Chinese people head out from home to wander through beautiful lantern shows and express their best wishes for a new year.
Handed down for thousands of years, the Lantern Festival still means a lot to Chinese and people from other regions around the world. The tradition of celebrating the festival is also being inherited and innovated on in modern society, reflecting the strong vitality of traditional Chinese culture.
As night falls, a sparking "golden dragon" held by a group of shirtless dragon dance performers slices through the sky to loud and passionate music as other performers use hand fans to splash into the air glowing droplets of molten iron thrown from a nearby crucible, causing them to burst forth like golden flowers whose sparks streak back to ground like thousands of tiny meteors.
The fiery dragon dance, inscribed to China's national intangible cultural heritage list in 2006, is one of the most attention-getting events for celebrating the Chinese New Year and the Lantern Festival, a traditional carnival filled with diverse folk activities.
With the approach of the 2023 Lantern Festival, folk celebrations in different places around China and even in the world are being prepared and held. Be it a grand firework show in Hangzhou, East China's Zhejiang Province or a traditional Chinese clothing party in Cambridge, England, people are using various ways to make merry during the festival and enjoy the charm of Chinese culture.
Have fun together
Marking the end of the Chinese New Year, the Lantern Festival is the perfect opportunity for families in China to have fun together at the night by wandering through various lantern shows, having traditional snacks and watching folk art performances.
Suspended for the last two years due to the pandemic, the traditional folk art performances held in Jinzhong, North China's Shanxi Province, will make a return on Sunday morning.
Local residents told the Global Times that preparations have been underway since a few days after the start of the Chinese New Year. One of their biggest efforts has been focused on building an arched gateway decorated with colorful strips of cloth in front of a local plaza.
A farmer surnamed Du, who wears a colorful boat costume in the annual Lantern Festival parade, said that she wanted to take part in the performance due to her deep love for folk art and to celebrate the festival in a meaningful way. She noted that while it has been tough getting up at 2 am to put on makeup and a thin costume that does little to keep out the cold, the practice sessions have been an unforgettable experience so far.
In Tianjin, nearly 100 members of a folk art team and intangible cultural heritage inheritors have formed a wandering parade that travels around to perform for residents. Some performers walk on stilts, playing music accompanied by drums, while others perform the Yangko dance (a traditional folk dance commonly performed in the Northern provinces of China) as onlookers cheer them on.
In Zigong, Southwest China's ­Sichuan Province, lantern shows dating back to the Tang Dynasty (618-907) have been welcoming an endless stream of visitors, while over in Xi'an, Northwest China's Shaanxi Province, streets and buildings have been decorated with colorful lanterns ahead of the grand firework show that will kick off the night of the festival.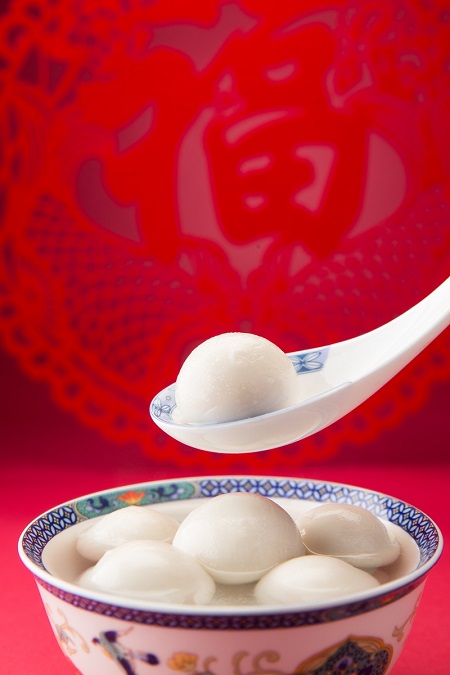 Yuanxiao, a traditional Lantern Festival food Photo: VCG
Joining in the jubilation
Influenced by the spread of ­Chinese culture, many other countries, especially in Asia, are also getting ready to celebrate the Lantern Festival, with many adding a local twist to certain customs.
Japanese people are accustomed to drinking red bean porridge during the festival and holding bonfire parties in the evening, an activity traditionally used to pray for a good harvest. In Thailand, people also eat yuanxiao - glutinous rice balls typically filled with sweet red bean paste, sesame paste, or peanut butter - during the festival, but unlike China's traditional white balls, Thailand's yuanxiao are colorful.
The tradition of celebrating the Lantern Festival has spread around the world as China's cultural influence has expanded.
Lyu Yuexi, head of the cultural department of Chinese Students and Scholars Association in Cambridge, told the Global Times that a dinner party featuring traditional Chinese clothing is scheduled to be held at the St. John's College in Cambridge University on Saturday night to celebrate the Lantern Festival overseas.
"Many locals are showing an interest in traditional Chinese clothing. Launching such an event for the Lantern Festival is a good ­opportunity to promote our culture to the world, and can satisfy our nostalgia for our motherland while we are so far away from our families," he said.
August 4, 2023

July 27, 2023