New tech discovers UK-German dyes in Qing Dynasty paintings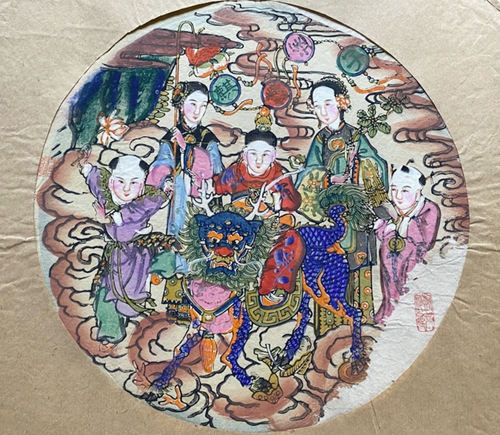 The Yangliuqing Chinese New Year painting [Photo/Courtesy of Zhang Hui]
Using a novel analysis technique, a Hangzhou-based science team in East China's Zhejiang province has discovered that the purple and green dyes used in two Qing Dynasty (1644-1911) Chinese New Year paintings originated from Europe, Zhang Hui, the project head, exclusively revealed to the Global Times on Monday.
Called Surface-enhanced Raman Spectroscopy (SERS), the technique is a "swab-based" analysis method that aims to decode the history hidden in the organic compound dyes used in ancient paintings.
Comparing to other "scratching" sampling methods, the new strategy has "excellent effectiveness" and is safer for ancient art relics, Zhang told the Global Times.
Considering the technique's "minimally invasive" nature, scientists chose two late Qing Dynasty Yangliuqing art works to sample. The two paintings are folk New Year paintings that combined wood-block printing and painting by hand.
After gently wiping dyes from the paintings, scientists uncovered the foreign ties hidden within the purple and green colors in the work.
The team found that the purple dye was a gentian violet, or crystal violet, which was invented in 1866, while the green dye was a malachite green invented in 1878.
These both were imported into China from the UK and Germany during the 19th century.
"The dye companies in Britain and Germany had business contacts in China at that time, and there were also brands specializing in imported pigments in Shanghai, so we theorize that these ­synthetic dyes may come from British and German enterprises," Zhang said.
Jin Xiaoyi, a researcher representative for the Crafts Museum of China Academy of Art who joined the project, told the Global Times that the novel dyes reveal how the "penetration of globalization" inspired changes in the development in Chinese art.
She also added that the new sampling technique can be used in various other paintings with organic compound dyes.
It provides a window for scholars to examine China-West art exchanges, Zhang remarked.
"Because many pigments have obvious regional characteristics, the analysis of pigments can re-veal the spread and exchange of painting materials and techniques at that time," he said.
The study was cocreated by researchers at multiple Chinese institutions such as Zhejiang University and the Crafts Museum of the China Academy of Art in Hangzhou, and also the Institute of Yangliuqing New Year Paintings in Tianjin. In November 2022, the study was published in the jour-nal ScienceDirect.
"It is hoped that in the future, we can further expand and strengthen its application in the field of cultural heritage."
August 4, 2023

July 27, 2023