Young group puts education in sharp focus
Editor's note: On Jan 24, International Day of Education, a group of young people from different countries took part in the latest episode of the China Daily series Youth Power, titled Education and The Future, to voice their opinions on schooling and learning. The episode was broadcast online on Jan 30.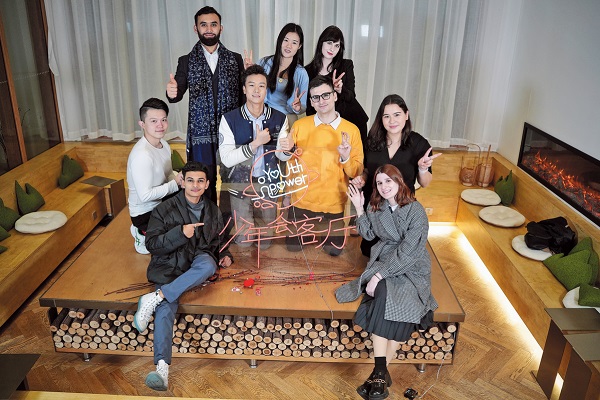 Young people from different countries take part in the China Daily series Youth Power on Jan 24, International Education Day. [Photo/China Daily]

Online classes, different teaching systems, technology addressed
Enoch Wong, who comes from Hong Kong and graduated from Schwarzman College at Tsinghua University, has noticed a public misconception about education — that it is all about producing elites, more academic degrees and more millionaires.
But to him, promoting equal access to knowledge is more important, which is why Wong has always believed that online education is the key to the future.
"For example, when you look at China with its 1.4 billion population, it's very difficult to put every single child, every single teenager into a bricks-and-mortar school. Therefore, the only way to increase such access is to use technology," Wong said.
But Asilbek Khonkhujaev, a student from Uzbekistan at Hangzhou Normal University, said that despite many of its advantages such as mobility and easy accessibility, online education lacks one of the most crucial elements in people-to-people communication — eye contact.
"This is like human nature. We have some knowledge that is directly person-to-person," said Asilbek, who suggested that offline and online education should be combined if possible.
There is also a common belief that every step of a child's education is aimed at paving the way for his or her ultimate goal of landing a good job, which is why picking the "right" major is a critical decision for many young people — and their parents — when they go to college.
Jood Sharaf, a student from Bulgaria studying at Tsinghua University, said her parents were disappointed when she chose to study international relations, because it meant she was not going to be a doctor, as they had hoped.
"In the United Kingdom, it's become a joke that if you do social science you'll end up being unemployed, unlike your friends who do business management," said Sharaf, who went to high school in the UK.
The discussion then turned to what higher education is really about and what college is for.
Victoria Gomes Pereira de Almeida, a Portuguese-language teacher from Brazil at Shanghai International Studies University, said college is not just where young people acquire knowledge, but also where they can open their eyes to a bigger and more diverse world.
"When we're in high school, we have a very limited view that people who look like us most likely come from the same background. University helps you add different lenses to the way in which you see the world, while as you're growing up you learn to accept diverse ideas and diverse people, and that is quite important," she said.
For Wong, college is also where students learn to live independently and responsibly.
"At Tsinghua, our motto is Self-Improvement and Social Commitment. In college, you also understand your responsibility and your commitment to society," he said.
August 4, 2023

July 27, 2023