Chinese love story: Legend of the White Snake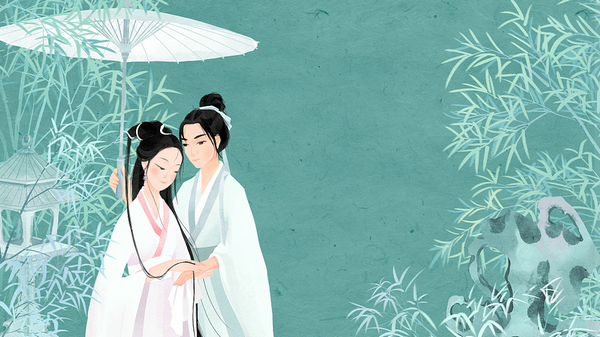 A stylized rendering of Bai Suzhen and Xu Xian. [Photo/CFP]
Snakes – from the cunning serpent in the Bible that convinces Eve to eat the fruit from the forbidden tree, to the limbless, slimy reptile covered in overlapping scales that can trigger ophidiophobia in extreme conditions – can't be regarded as having a favorable reputation in most cases. While the species is usually labeled with tags such as dangerous, poisonous, evil and disgusting, in Chinese folklore a white-colored member of the snake family is rather famously linked to a romantic story, and is a common household tale known to many in China.
The Valentine's Day again sheds a spotlight on this ancient legend, as the devotion, bravery and loyalty involved in this cross-species romance between a young scholar and a white snake maiden, still shimmers today.
The time-tested tale goes that a white snake spirit, longing for human life, finally managed to transform itself into a charming lady after centuries of practice and cultivation. Bearing the name of Bai Suzhen, the beautiful snake maiden fell in love with a respected doctor, Xu Xian, at first sight when they met on a rainy day on the Broken Bridge located in the picturesque West Lake of Hangzhou.
In some other versions, the pair's first encounter took place far earlier. It holds that when Bai Suzhen was merely a young snake, she was once saved by Xu Xian in his past life. It was driven by gratitude and the eagerness to repay such a life-saving kindness that Bai Suzhen, through her constant efforts, accomplished her transformation to take on human form. After which, she set out without hesitation to look for Xu Xian and repay him back for his generous deed. The karmic connection has given this legendary romance a sense of destiny.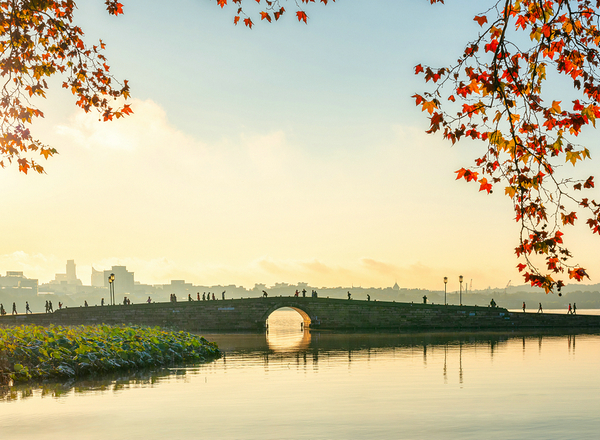 The Duanqiao Bridge, or Broken Bridge, at Hangzhou's West Lake,East China's Zhejiang Province. [Photo/CFP]
And the main plotline continues. After tying the knot, the young couple set up a medicine shop, enjoying a harmonious and happy life together. But there was a looming time bomb threatening to shatter the couple's joy, since Xu Xian had no idea of the fact that his beloved was a snake spirit. And the appearance of Fa Hai, a Buddhist monk at the Jinshan Temple, was the catalyst that lit the fuse.
Believing that such a marriage was unnatural, Fa Hai told Xu Xian that his wife was not a human being but instead an evil snake. He also convinced the doubtful husband to make Bai Suzhen drink a special wine that would prove his word. Xu Xian followed Fa Hai's advice, tricked Bai Suzhen into drinking the wine, and witnessed his wife turning into a white snake. He then broke down and died.
Bai decided to save her husband. She braved the land of the immortals and stole a sacred magical herb from there – violating a rule that a snake spirit was never supposed to break.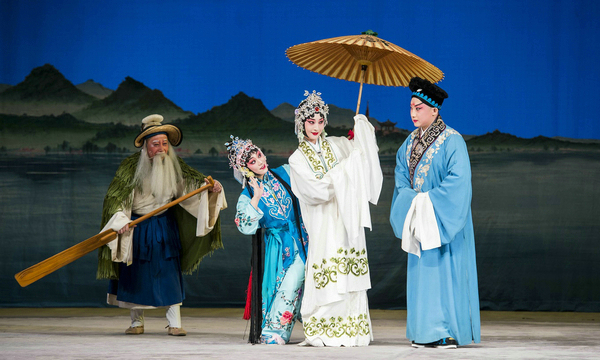 The China Cultural Center in Sydney, in partnership with the China National Peking Opera Company, launches a virtual exhibition on Peking Opera on Aug 26, 2020. [Photo provided to Chinaculture.org]
Xu Xian, when brought back to life, was taken by Fa Hai to the Jinshan Temple, or Golden Hill Temple. To reclaim her husband, Bai Suzhen unleashed the waters and flooded the temple, coining a well-known Chinese idiom.
Despite the multifaceted plots and twists, there are two main endings to the Legend of White Snake. In one version, Bai Suzhen, after giving birth to her son, was punished and was imprisoned in Hangzhou's Leifeng Pagoda on the banks of the West Lake, while her husband chose to become a monk.
Compared to this tragic ending, the second version is more widely accepted, as it offers the folk tale a much happier ending. According to this version, the couple's son, who was top scholar in the country, offered sacrifice to his mother in front of the Leifeng Pagoda, causing the pagoda to collapse and enabling the family to reunite.
More than just a love story, the Legend of White Snake deals with themes of gratitude, struggle and persistence and is counted as one of China's most famous folktales which has given rise to numerous works including folk operas, TV dramas, musical performances and animations. The legend was listed as a national intangible cultural heritage in 2006.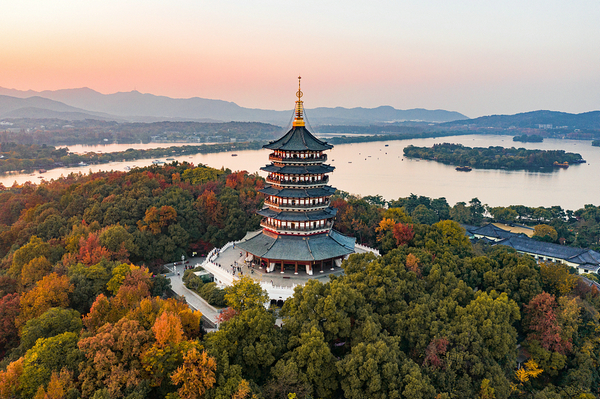 The Leifeng Pagoda in Hangzhou, East China's Zhejiang Province. [Photo/CFP]
August 4, 2023

July 27, 2023