Billionaire Jack Ma of Alibaba reportedly appears in Melbourne, Australia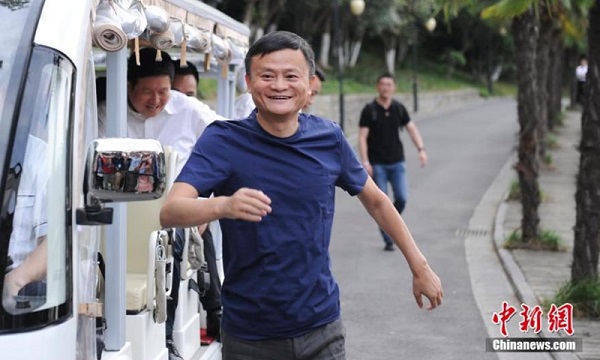 Jack Ma, founder of Alibaba Group, is seen on his way to a hot pot restaurant in Hefei, Anhui Province on June, 6, 2020. (Photo: China News Service)
The billionaire founder of Chinese e-commerce giant Alibaba appeared in Australia this month, Chinese media reports said, citing a group photo he was in with an Australian family, and the connection of which could be dated more than four decades ago.
Ma is in Australia now, domestic media yicai.com reported on Sunday, citing an anonymous source.
Some social media users ran into Ma recently in a hotel in Melbourne and took a picture showing that Ma was browsing his mobile phone while drinking Coke.
Ma's connection with the Australian family, the Morleys, went back to 1980 when the late Ken Morley and his family visited Ma's hometown, which is also the headquarters of Alibaba -- Hangzhou, capital of East China's Zhejiang Province.
Morley brought young Ma to Australia in 1985 for his first overseas trip, when he spent nearly a month in Newcastle, an experience which the Chinese tycoon said had "totally changed" his future.
Morley's friendship and mentorship had an important impact on Ma that it inspired him to make a $20 million philanthropic commitment to support students at the University of Newcastle.
Ma's vision is to provide students with the opportunity to become globally aware and socially conscious citizens, while forming lifelong friendships like those he had with the with Morley family in Newcastle, according to the website of the University of Newcastle.
Since completely withdrawing from Alibaba's board of directors, Ma's whereabouts has been attracting growing media attention.
Ma left Alibaba's board of directors after stepping down as an executive chairman in 2019, though he continues as a life-long member of the Alibaba Partnership.
August 4, 2023

July 27, 2023