Captain Wang braced for year of reckoning
Team China skipper steeled for tough challenge at Women's World Cup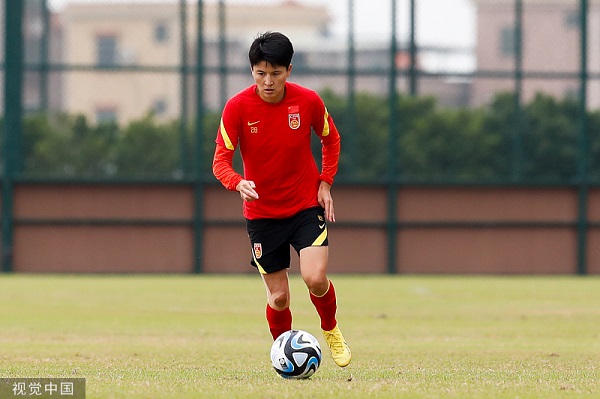 Wang Shanshan [Photo/VCG]
Captain Wang Shanshan admits the pressure is on for Team China at this summer's Women's World Cup but is backing the squad to rise to the challenge.
The 33-year-old and her teammates are gearing up for a grueling schedule of events in 2023. The Women's World Cup will take place in Australia and New Zealand from July 20 to Aug 20, when China will face England, Denmark and Haiti in Group D. In September, the squad will play the Asian Games in Hangzhou as well as qualifiers for the Paris Olympics.
"It would be misleading to say that there is no pressure. The three major events this year are really very difficult for us," said Wang, who led the team to glory at last year's Asian Cup.
"I think everyone is in a really positive frame of mind now, and our goal is very clear. We are all working hard to prepare for these tournaments."
After the Spring Festival holiday, Wang joined the national team for a training camp in Guangzhou before leaving for Spain on Feb 10 to play four friendly matches.
In Spain, the Steel Roses defeated Real Betis 2-1 and Sporting Huelva 4-0, but lost to Sweden and drew 0-0 with the Republic of Ireland.
"This was a good chance to warm up for the World Cup. We want to simulate playing against opponents like England and Denmark through these games to discover our problems and weaknesses," said Wang.
"Our opponents' play is more direct, and their attack and defense are getting faster and faster, which is really a challenge for us. We try to figure out their tactics by studying videos of their matches and then make some plans," added Wang.
As well as becoming more technically proficient, European teams have also become more physically robust, and Wang is keen for Team China to level up in this regard too.
"It is probably going to be very physically demanding," she said of the forthcoming tournaments. "The three competitions are very close, so it is essential for us to shape up and be ready in the early stage."
Wang believes Team China has improved mentally after its exertions at the Asian Cup last February when the squad bounced back from adversity on many occasions to eventually be crowned champion. She credits head coach Shui Qingxia for that extra mental steel.
"Since the appointment of Shui Qingxia, she has always emphasized that we should be confident and united," Wang said.
As the captain, Wang is helping young players integrate into the national team.
"We're currently in a transition period, from the old to the new. I think it's good to have more young players coming through and injecting vitality into the team," she said.
"I also hope the young girls aren't afraid and nervous. As long as they train well and play well, it's enough. In private, I talk with them about the training. If they have any problems, I am willing to help them anytime."
Wang Shanshan currently plays her club soccer for Beijing in the Women's Super League, but is glad to see the likes of Wang Shuang (Racing Louisville in the US) and Li Mengwen (Paris Saint-Germain in France) playing with foreign clubs.
"They go abroad, learn something different from other places, and combine with each other when they play in the national team. I think it benefits both individuals and the whole team," said Wang Shanshan.
As far as the men's game is concerned, Wang Shanshan said she drew inspiration from Lionel Messi's captaincy of the triumphant Argentina team at last year's FIFA World Cup in Qatar.
"I think Messi plays a powerful leadership role and it is beneficial to learn from that," she said.
"He is 35 years old and could play full-time at the World Cup, lead Argentina forward and make the team more cohesive. I think it is so admirable."
August 4, 2023

July 27, 2023