Asian Games mascots promote low-carbon cycling in Hangzhou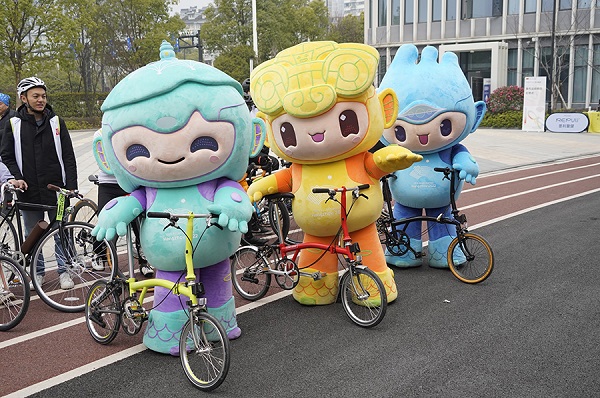 Mascots of the Hangzhou Asian Games learn to ride bicycles on Feb 25. [Photo/hangzhou2022.cn]
Congcong, Chenchen, and Lianlian, the three mascots of the Hangzhou Asian Games, have been busy in recent days learning how to ride a bicycle.
They joined a group of nearly 100 cyclers on Feb 25, who started at the Binjiang Sports Center and traveled through Baima Lake Park and Changhe Old Street, a total of 10 kilometers.
The activity was part of celebrations organized by the Binjiang Sports Center operations team marking the 200-day countdown to the Hangzhou Asian Games, which will fall on March 7 this year.
Along the way, the mascots and cyclers interacted with each other and linked up Asian Games venues, national fitness centers, and traditional cultural districts through activities such as flash mobs, check-ins, and sending greetings.
"In the future, we will continue to explore Hangzhou and Binjiang-style cycling routes, traverse the city on our bikes, experience Asian Games culture, and create a stronger national fitness atmosphere for the Games," said Yu Shujun, a staff member of the Binjiang Sports Center operations team.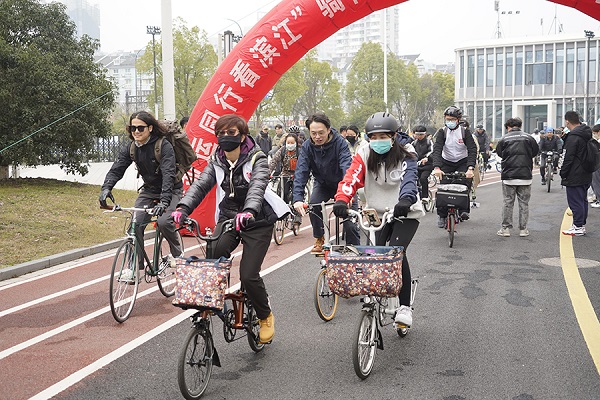 Nearly 100 cyclers take part in the activity. [Photo/hangzhou2022.cn]
August 4, 2023

July 27, 2023