Entrepreneurs help 'take the pulse' of business environment in Xihu district
A conference on promoting the business environment of Xihu district, Hangzhou. [Photo/tianmunews.com]
Cloud Town, known as the top characteristic town in China, has recently undergone significant reforms, local media outlets reported.
The government of Xihu district, where the town is located and administered, appointed 10 individuals from various industries and fields as "Business Environment Experience Officers". They will help improve the feedback and problem-solving mechanism for the town's business environment issues and roll out more targeted preferential policies.
"We can identify the blockages and weaknesses in our business environment and work to remove them," said Hu Xiaosheng, head of the Xihu district enterprise development service center.
He said he believed that the government cannot simply be satisfied with its own business environment optimization efforts, but must adopt a "user mindset" to evaluate the policies.
Hu explained that the experience officers were mainly composed of entrepreneurs, experts, scholars, and representatives of various associations and chambers of commerce. With different perspectives and areas of expertise, these officers can identify the problems encountered in enterprise operations and reflect on the real needs of market entities.
In 2022, the number of market entities registered in Xihu district exceeded 140,000, an increase of 11 percent yearly. The total number of listed companies grew by six to 35, putting Xihu first in the city and third in Zhejiang province.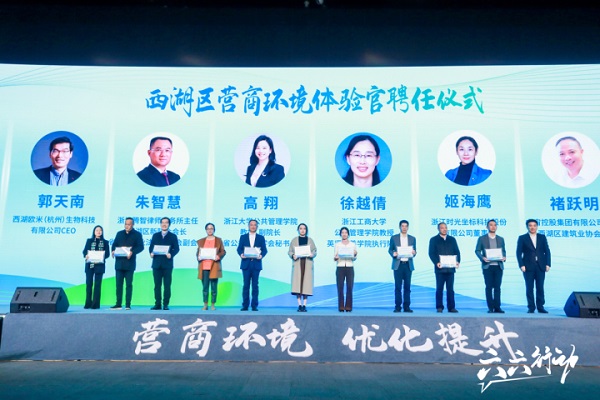 Ten individuals are appointed "Business Environment Experience Officers" of Xihu district. [Photo/tianmunews.com]
August 4, 2023

July 27, 2023