China to resume issuing all types of foreign visas
By Wang Qingyun in Beijing, He Qi and Wang Ying in Shanghai and Oasis Hu in Hong Kong|
China Daily Global|
Updated: March 14, 2023
L
M
S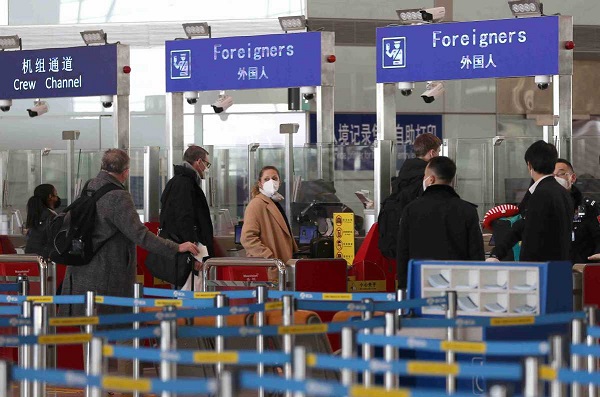 Travelers wait to pass through immigration checkpoints in Beijing Capital International Airport in this file photo of Jan 8, 2023. [Photo by Zou Hong/China Daily]
Move by nation praised as further sign that travel and exchanges returning to normal
China will resume issuing all types of visas starting on Wednesday, another step toward vigorous people-to-people exchanges between the country and the world.
The decision was announced by the Foreign Ministry's Department of Consular Affairs, which said the country will also resume issuing all types of port visas to applicants with lawful reasons.
Foreigners with visas that were issued before March 28, 2020, and are still valid will be allowed to enter the country, according to the statement.
Visa-free policies will be resumed for entry to the southern island province of Hainan and cruise tour groups at Shanghai ports.
In addition, visa-free entry to the southern province of Guangdong will be restored for tour groups of foreigners entering from the Hong Kong and Macao special administrative regions. A similar mechanism will be reinstated for tour groups from member countries of the Association of Southeast Asian Nations to enter Guilin in the Guangxi Zhuang autonomous region.
In March 2020, in an effort to curb the spread of COVID-19, China began requiring most foreigners to apply for new visas to enter the country and suspended the issuing of port visas and visa-free entries and transits.
The changes announced on Tuesday mean that the country's visa policies have returned to what they were before the pandemic and show China's readiness to further open up, said Ren Yuanzhe, a professor in the department of diplomacy and foreign affairs management at China Foreign Affairs University.
"It is a great encouragement for foreigners to return to China," Ren said.
The changes will also help boost China's economic performance, according to Ren, who said that restoring cross-border exchanges and trade is necessary for the country to achieve its growth target for this year.
Li Shijie, dean of the School of Economics at Hainan University, said that with the new policies, the Hainan Free Trade Port will become more competitive in attracting global talent.
Insiders also expect a boost in tourism after the adjustment of the visa and entry policies.
Wang Zixi, who is in charge of Guilin's tourism authority, said the tourism industry in the city, which is famous for its natural scenery and has a visa-free transit policy for travelers from 52 countries, will rebound.
Timothy Chui Ting-pong, executive director of the Hong Kong Tourism Association, said he believes that the new policies will enable Hong Kong's travel agencies to arrange multidestination travel for foreign tourist groups.
David Ferguson, an expat from Edinburgh, Scotland, who works in Beijing, said it is "essential" for China to encourage more foreigners to come and see for themselves what the country is like.
This will help dissolve "widespread public hostility to China in developed countries built almost entirely on ignorance and prejudice", said Ferguson, who has a Chinese permanent resident card.
Eric Baden, a German who first visited in 1998 and now lives in China, said he was glad to see that travel to the nation is returning to normal after the difficult years of the pandemic. "This will allow foreign friends to reconnect with China, understand it better and help boost economic growth," he added.
As the new visa policy will facilitate the recovery of international business travel, tourism and overseas studies, airlines are expected to increase international flights.
Liang Nan, director of the Department of Transport at the Civil Aviation Administration of China, told a policy briefing in January that if the market recovers well, the number of flights to and from China by the end of the year is expected to reach about 80 percent of the level before the COVID-19 pandemic, with about 7,300 flights per week.
According to FlightAi, a market insights platform of Trip.com, inbound flights have returned to 20 percent of the 2019 level as of Tuesday, and the number of online searches is 90 percent of the 2019 figure.
Chen Bowen in Haikou and Zhang Li in Guilin contributed to this story.
Contact the writers at wangqingyun@chinadaily.com.cn
August 4, 2023

July 27, 2023