Ming Dynasty royal treasures on display in Linping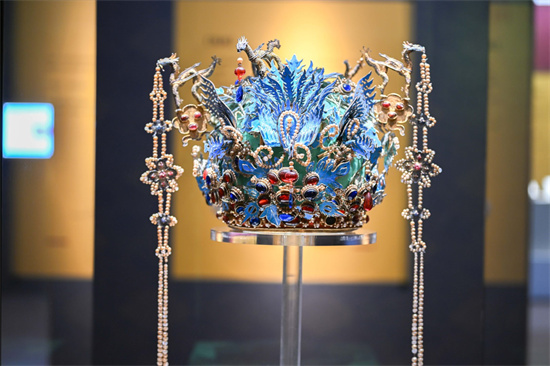 The Empress' phoenix coronet is on display. [Photo/hangzhou.com.cn]
An exhibition of the royal treasures of the Emperor Wanli of the Ming Dynasty (1368-1644) opened at the Linping Museum in Hangzhou on April 26, local media outlets reported.
The exhibition showcases 70 sets of cultural relics excavated from Ming Tombs, including the dragon robe of Emperor Wanli and the Empress' phoenix coronet.
The exhibition is divided into three parts, with the first part mainly displaying utensils excavated from the Dingling Mausoleum in the Ming Dynasty, such as the blue and white plum bottle and the jade gui. It showcases court furnishings and ceremonial utensils and interprets the ancient funeral thoughts about "treating death as treating life."
The second part displays daily washing, dining and wine utensils, showcasing the crafts and art of the time, such as the gilded cloud pattern basin used by the emperor and empress.
The third part mainly displays the queen's ornaments and emperor's crowns, presenting the exquisite palace skills and grand royal demeanor of the Ming Dynasty.
The exhibition will last until July 25. Those interested can go to the temporary exhibition hall on the first floor of the East Wing of the Linping Museum at No 95 South Street in Linping district for a visit.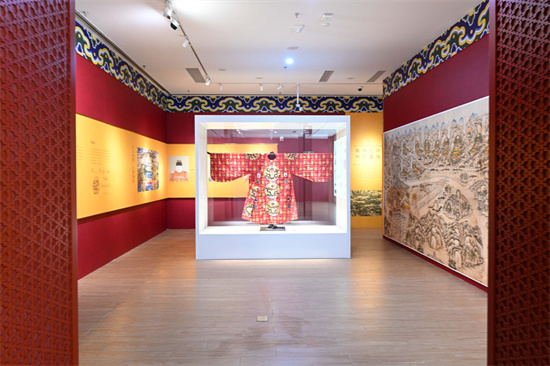 A piece of dragon robe that belonged to Emperor Wanli of the Ming Dynasty is on display. [Photo/hangzhou.com.cn]
August 4, 2023

July 27, 2023