Ambition, perseverance make Chinese youth role models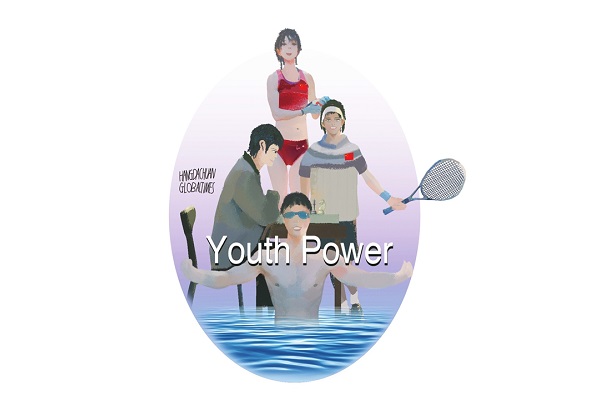 Illustration: Hang Dachuan/Global Times
Chinese athletes have been making headlines recently.
In swimming, 18-year-old freestyler Pan Zhanle and 23-year-old breaststroker Qin Haiyang both set new Asian records in their respective disciplines at the national champions' race in Hangzhou, East China's Zhejiang Province.
At the trial event for the Asian Games, Pan dropped a blistering 47.22 seconds in the men's 100m freestyle, the 11th fastest swimmer in history, while Qin became the third man ever in history to delve into 57-second territory in the men's 100m breaststroke as he finished with 57.93 seconds.
Their prominence in the swimming world has boosted China's medal hopes, especially in the relay competitions, at the aquatics world championships, which are scheduled to be held in Fukuoka, Japan in July, and the Asian Games in Hangzhou in September.
In tennis, 26-year-old Zhang Zhizhen became the first player in the Chinese Tennis Association to reach the quarterfinals of an ATP Masters 1000 tournament while at the Madrid Masters. The ATP Masters 1000 events are among the most-coveted tennis competitions, second only to the Grand Slams in a calendar year. Zhang, currently at the 99th place in the ATP singles rankings, is expected to surge into the top 50 of men's tennis.
Elsewhere, Chinese chess player Ding Liren, 30, recently won the World Chess Championship after a grueling 15-round battle against Russian grandmaster Ian Nepomniachtchi. The win rounded up a national campaign set up 35 years ago to win four major titles in chess. After weathering the pressure and anxiety of the championship, Ding said he hopes his success will inspire others to pursue their lifetime goals.
Meanwhile, Qieyang Shijie, a female race walker, was awarded a China Youth May Fourth Medal, a prestigious national honor for young people. She was reallocated a London Olympics gold medal in March, 11 years after the competition was held, making her the first ethnic Tibetan gold medalist for China.
Qieyang Shijie finished third in the women's 20km race walk at the 2012 Summer Olympics when she was 21. But as the first two finishers of the race, Russia's Elena Lashmanova and Olga Kaniskina, were retroactively disqualified for using performance-enhancing substances, the medal for Qieyang Shijie has changed from bronze to gold.
Besides the late gold medal, Qieyang Shijie has also won a silver medal and three bronze medals at the athletics world championships. Her career may not be considered a stellar one, but her perseverance in the sport has distinguished her from others.
Qieyang Shijie's story is a reminder that success is not just about wins. Now 32, she is still preparing for the upcoming worlds in Budapest, Hungary, and the Asian Games later in 2023 as she continues to inspire others with her resilience and determination.
Young athletes, like Pan, Qin and Zhang, may be mainly driven by their energy and ambition, and it also takes relentless training and discipline to succeed in their respective sports. For chess grandmaster Ding, his win also exemplifies the importance of patience and perseverance though the sport is far less physically demanding.
As China continues its commitment to sports, not only on a professional level but also at the grassroots level, the investment will continue to pay off. It is not just about winning medals and breaking records, but also about inspiring future generations to pursue their potential.
These athletes serve as role models for young people everywhere, not just in China but around the world. They demonstrate the importance of hard work, discipline and resilience in achieving success. Whether it's in sports, academics or any other field, their stories remind us that anything is possible with the right mind-set and attitude.
August 4, 2023

July 27, 2023