Ever-evolving technologies help tell ancient stories of China's millennia-old Liangzhu City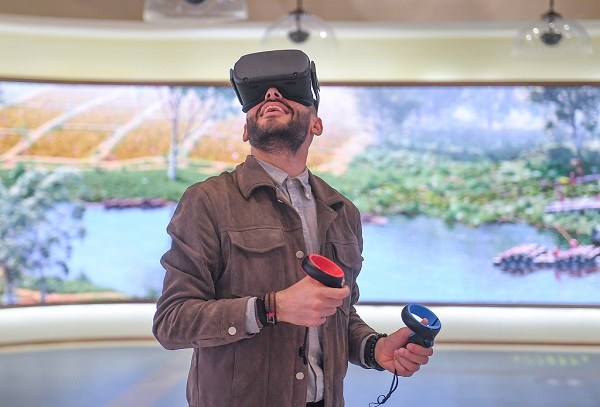 A foreign visitor gives the 5G+VR experience a try at the Archaeological Ruins of Liangzhu City in Hangzhou, Zhejiang, on May 5, 2021. [Photo/CGTN]
Representing the great achievements of the prehistoric rice-cultivating civilizations of China between 3300 BC and 2300 BC, the Archaeological Ruins of Liangzhu City in Hangzhou, Zhejiang, is being hailed as an outstanding example of an early urban civilization that stands as a concrete and compelling testament to the existence of at least 5,000 years of Chinese history.
Opening to public after being inscribed onto the UNESCO World Heritage List at the 43rd session of the UNESCO World Heritage Committee in Azerbaijan in July 2019, the cultural site, which covers around 14.34 square kilometers, has become a popular tourist attraction thanks to the application of ever-evolving technologies that help to evocatively unravel the mysteries of this millennia-old site.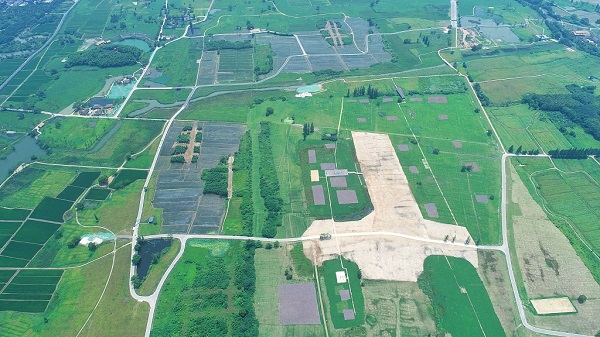 An aerial view of a section of the Liangzhu Archaeological Site in Hangzhou, Zhejiang, July 7, 2019. [Photo/CGTN]
Early in 2019, full 5G network coverage was rolled out at the site, making it the first national archaeological park of its kind in China to do so. And with integrated 5G systems, facilities and applications featuring cutting-edge technologies – ranging from 5G+VR (virtual reality) synchronous classrooms allowing for remote teaching, AR (augmented reality) glasses enabling visitors to witness a bird carved onto a jade disc relic take flight and circle around, to a VR headset that offers tourists the chance to experience fishing and deer hunting as the ancient Liangzhu residents did, and the use of 5G-supported patrolling drones – the site has been paving the way to better deliver Liangzhu's ancient stories in more vivid detail for its visitors.
Tourists are also able to embark on a virtual tour of the Liangzhu Museum, where rare relics found in the Archaeological Ruins of Liangzhu City are on display, by visiting the museum's website and exploring the historical and cultural knowledge behind the ancient site through high-definition pictures and virtual reality.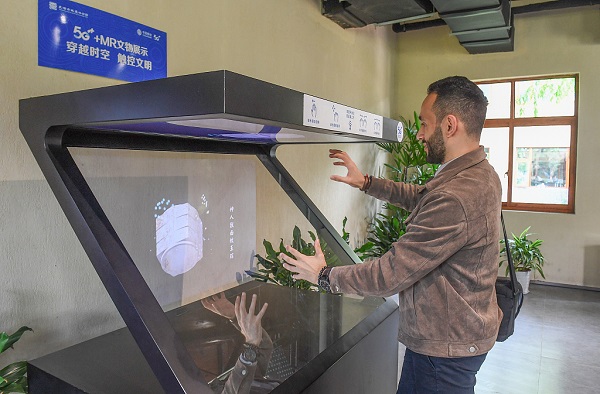 A foreign visitor experiences a 5G-supported holographic display of a cultural relic at the Archaeological Ruins of Liangzhu City in Hangzhou, Zhejiang, on May 5, 2021. [Photo/CGTN]
August 4, 2023

July 27, 2023