5th China Intl Tea Expo concludes with 116.13 tons of on-site tea transactions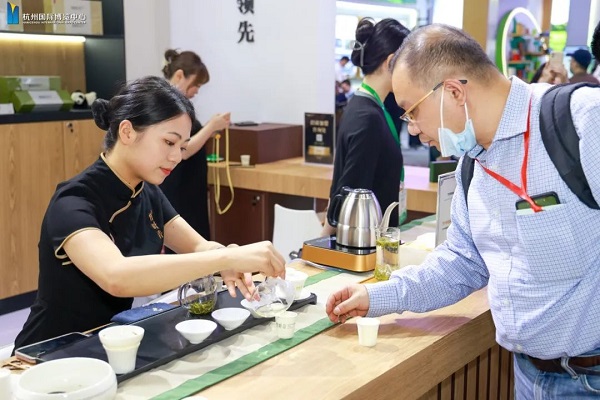 An exhibitor brews tea for a visitor at the expo. [Photo/WeChat account: cce2001]
The 5th China International Tea Expo, held in Hangzhou, Zhejiang, concluded after a five-day run, as announced by the Ministry of Agriculture and Rural Affairs on May 24.
Statistics show that as of May 23 on-site tea transactions had reached 116.13 tons, with a value of 144 million yuan ($20.4 million). A total of 9,462 orders were signed, with an intended 7,719 tons of products and an intended transaction value of 3.17 billion yuan.
Nearly 900 domestic and foreign tea companies participated in this year's expo, showcasing over 10,000 different tea products. More than 4,200 professional buyers attended the event, with a total of 121,000 individual visitors.
The expo also witnessed over 80 brand promotion events, with a focus on promoting the first batch of eight tea brands cultivated under the Ministry of Agriculture and Rural Affairs' agricultural brand excellence program. Additionally, 50 best-selling products online and 100 recommended products offline were selected.
The Research Report on Green and Low-Carbon Development of the Tea Industry and the Technical Specifications for Ecological and Low-Carbon Tea Production were released during the expo. The first batch of 51 certified enterprises for ecological and low-carbon tea production were announced along with 40 national tea village tourism routes and 30 featured and charming tea villages.
For the first time, the expo featured special exhibition area for tea drinks that are popular among young people, showcasing innovative formats, trends and achievements of the tea industry, including tea cafes, cultural and creative tea products, cold-brewed tea, and traditional Chinese tea beverages.
The expo also set up a dedicated website and hosted online livestream promotions for tea products, which attracted more than 16 million online views and generated 5.5 million yuan in sales revenue.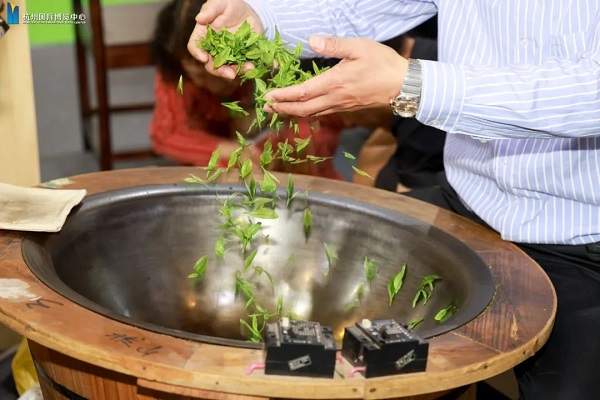 A visitor tries his hands at frying tea. [Photo/WeChat account: cce2001]
August 4, 2023

July 27, 2023