Culture and the Games| Asian Games mascots learn from expert copper sculptor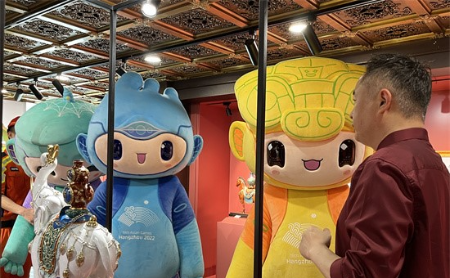 Asian Games mascots visit the Zhu Bingren Copper Sculpture Art Museum in Hangzhou on May 31. [Photo/Hangzhou Daily]
The mascots of the Asian Games Hangzhou visited the Zhu Bingren Copper Sculpture Art Museum in Hangzhou on May 31.
Their purpose was to pay homage to Zhu Bingren, a skilled copper sculptor. The mascots sought to learn from Zhu and experience the enchanting artistry of intangible cultural heritage copper sculpture.
Copperware art, starting from the meticulous selection of raw materials, requires a meticulous process involving casting, polishing, and high-temperature coloring, among others. Its exquisite forms, craftsmanship, colors, and spiritual resonance are elegant and refined.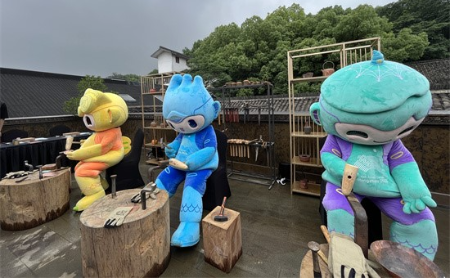 Asian Games mascots try their hands at copper-carving. [Photo/Hangzhou Daily]
Zhu, hailed as the pioneer national-level master artisan of copper sculpture, is the founder of the Zhu Bingren Copper Sculpture Art Museum, the first all-copper art museum in China. It encapsulates the artistic essence nurtured by five generations of the renowned Zhu family.
This event was the second segment of the "Mascot Experience Intangible Cultural Heritage Inheritance" series. The mascots will also learn about Huqing Yutang Traditional Chinese Medicine and other intangible cultural heritage items. Their aim is to promote and showcase the alluring charm of Hangzhou's culture.
August 4, 2023

July 27, 2023