Urban waterways in Hangzhou open for water sports fans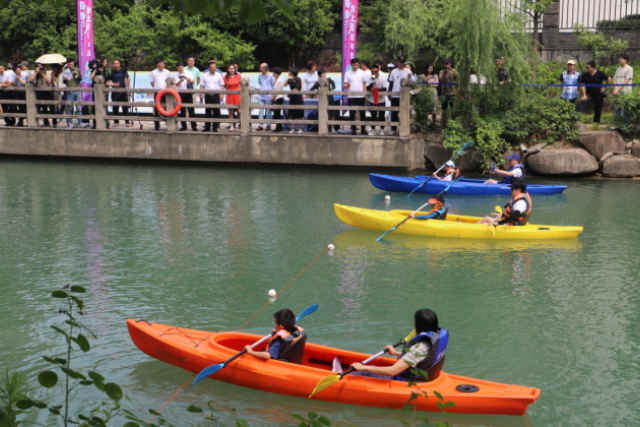 A kayaking competition is held in Hangzhou, Zhejiang province. [Photo/Hangzhou Daily]
Water sports fans in Hangzhou now have 10 "officially certified" locations to engage in their passion right at their doorstep, local media reported on June 8.
Coinciding with the upcoming Asian Games, Hangzhou introduced its first batch of 10 designated urban waterways, providing residents with convenient and safe opportunities to engage in water sports activities.
According to a press conference held under the theme of "Enhancing the Quality of Hangzhou's Waters, Embracing the Asian Games," the urban waterways are specifically designed to meet the needs of residents who enjoy kayaking, paddleboarding, and other water sports.
The water quality in the designated areas is required to meet Grade IV standards or higher, ensuring a healthy environment for activities such as kayaking, paddleboarding, rowing, and dragon boating. These areas are equipped with floating platforms, buoys, and shore observation decks to provide the best water sports experience for participants.
Safety measures have been implemented, including safety warning signs, lifebuoys, and the presence of several lifeguards. Regulations regarding safety equipment, rescue devices, lifeguard deployment, safety education, and facility maintenance have been established to ensure the safety of those engaging in water sports.
August 4, 2023

July 27, 2023