Village finds pride and development in tea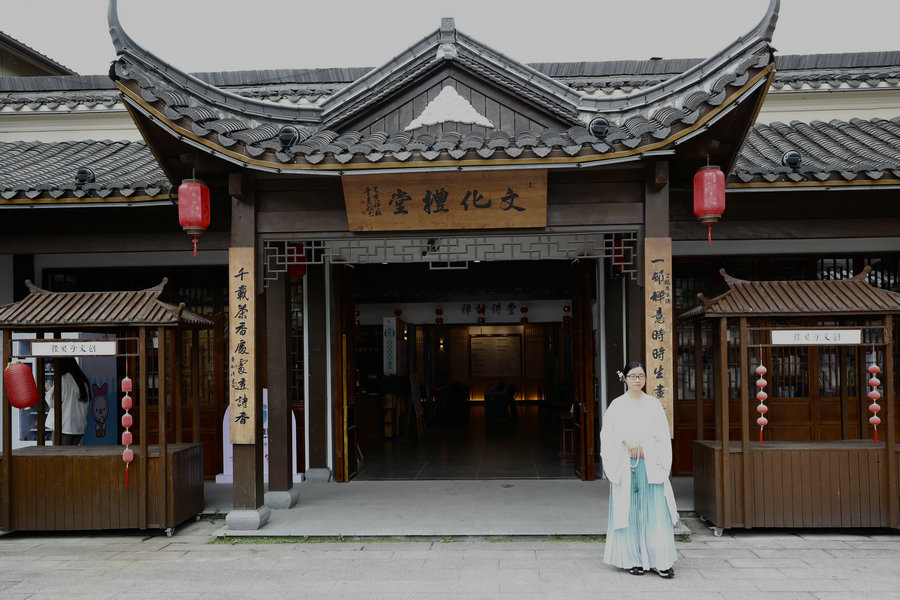 The cultural hall of Jingshan village. [Photo by Zhang Wei/China Daily]
A village in Hangzhou, Zhejiang province is tapping into its tea-growing tradition and Buddhist cultural heritage as it seeks to become a tourist destination.
Jingshan village, a picturesque rural community surrounded by vast stretches of terraced tea plantations in west of Hangzhou, is the sole growing area for its namesake farm produce – Jingshan tea leaves.
Moss-coated slab stones zigzag and lead visitors through rows of stand-alone farmhouses. Waist-high fences allow peaks into the rural lives unfolding in the courtyard.
Just a few kilometers away, the ancient Jingshan Temple is tucked in the cloud-enveloped Jingshan mountain.
Yu Ronghua, the village's Party chief and a master of tea frying techniques, said tea growing operations fast expanded in the village in the 1970s and, over time, 70 percent of its 1,600 residents are now somewhat involved in tea production, be it running plantations, frying tea leaves or promoting tea ceremonies.
"What we are doing these years is building China's first village that combines Buddhist teachings with Jingshan tea culture," he said.
At age 19, Yu became an apprentice and learned to fry tea leaves with his bare hands in iron pots heated above 200 C. The 54-year-old is well aware that the time-honored tea growing tradition in his hometown is an asset that deserves to be cared for years to come.
Jingshan tea leaves have a slender and fragile tender appearance, a green and shiny color, a clear and fragrant aroma, with its tea soup being bright green in color.
According to the local chronicles, some 1,270 years ago, the Great Master Faqing created the temple, where he also planted a few tea bushes as Buddha offerings. Over the years, the tea spread throughout the valleys and developed a unique and fresh flavor, which is known as Jingshan tea today.
The monks of Jingshan Temple collected the tea during the Grain Rain season and stored it in small pots to serve others.
"The tea leaves have properties such as refreshing spirits and the ability to improve one's eyesight," Yu said.
Soon after, the tea culture flourished.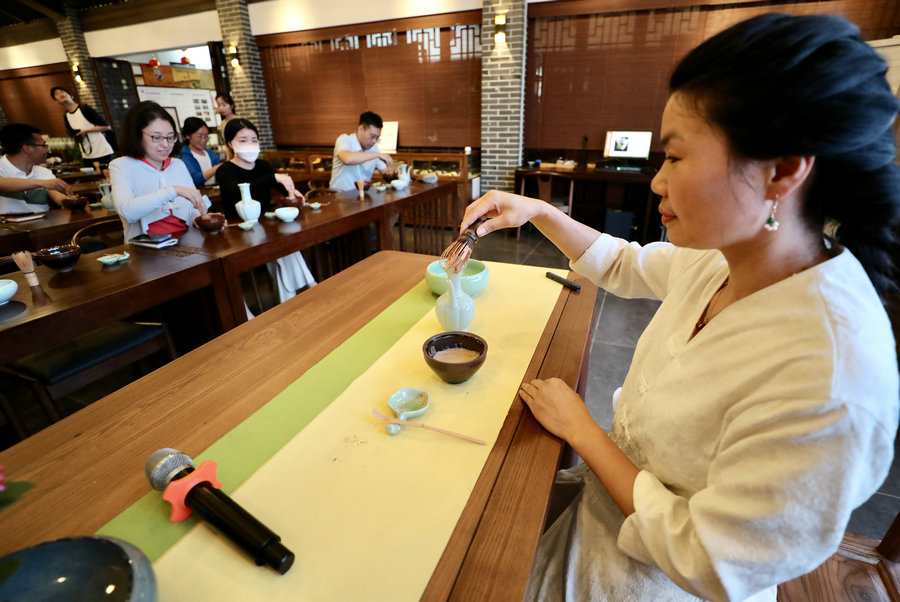 A tea ceremony as performed during the Song Dynasty is taught at the Yuhang Cultural Hall in Hangzhou, Zhejiang province, on June 6. [Photo by Zhang Wei/China Daily]
A Japanese monk who furthered his studies in Hangzhou, the then capital during the Southern Song Dynasty (1127-1279), brought the tea-making techniques and tea wares back to the island, which inspired the Japanese tea ceremony.
"It's safe to say that Jingshan mountain is the cradle of the Japanese tea ceremony," he said, adding that even today, Jingshan Temple is still celebrated among Japanese monks.
Jingshan tea now has become centerpiece of a sprawling industry, which Yu said worth more than 3 billion yuan ($421 million).
The village has been building on its cultural heritages and have transformed it into a resort complete with homestays and workshops.
A range of courses are offered including tea drinking rituals; making chaxian, a brush-like tool used to foam the tea; and diancha, a tea-making technique that resembles doing latte art.
"We want tourists to come, sit down and hear through the story of Jingshan tea's past and present," he said.