Hangzhou Asian Games: Competition venues open to public ahead of event, tech platform launched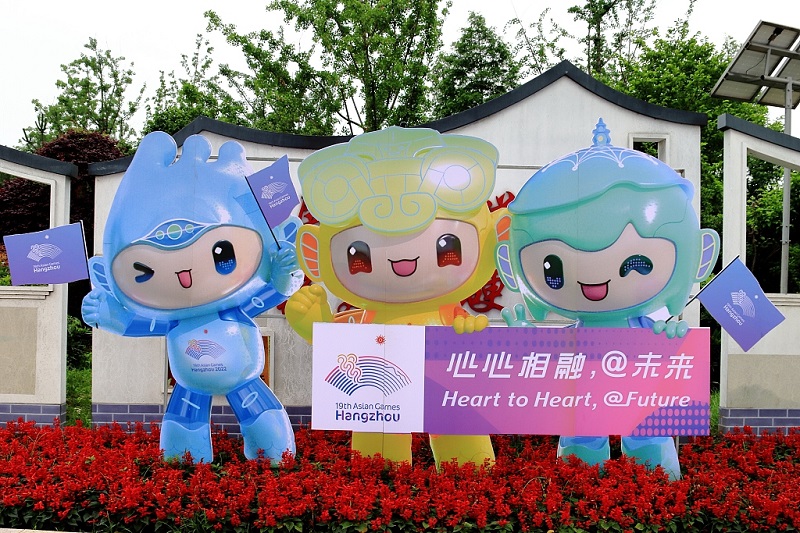 Statues of mascots for the Hangzhou Asian Games are shown in Shaoxing, east China's Zhejiang Province, May 19, 2023. [Photo/IC]
The State Council Information Office held a press conference on preparations for the Hangzhou Asian Games and Asian Para Games on Wednesday.
June 15 will mark the 100-day countdown to the opening ceremony for the 19th Asian Games, which is set to run from September 23 to October 8.
Hangzhou is the main host city, along with five co-host cities in east China's Zhejiang Province, namely Ningbo, Wenzhou, Jinhua, Shaoxing and Huzhou.
Different sectors have coordinated to ensure reception of participation from different countries and regions, said organizers.
Delegations from 45 countries and regions have signed up for the Games, said organizers, adding that the Games will be an important platform for sports growth and development in Asian countries and regions, and an event to prepare for the Paris 2024 Olympic Games.
The construction of 56 competition venues, 31 training venues have been fully completed to host 40 major events, 61 sub-events and 483 minor events during the Games, said organizers.
Twelve out of 56 competition venues were newly built for the Games.
With over 40 test games already held, competition venues will be open to the public ahead of the event to ensure full involvement of residents, which is different from other games where people gain full access to the venues after the games.
According to organizers, a digital technology platform has been launched to provide better services, including entertainment and various sport events.
Organizers said they will have a smooth transition from the Asian Games to the fourth Asian Para Games, which will be held between October 22 and 28.
August 4, 2023

July 27, 2023