Fragile, slender leaves spawn a rural attraction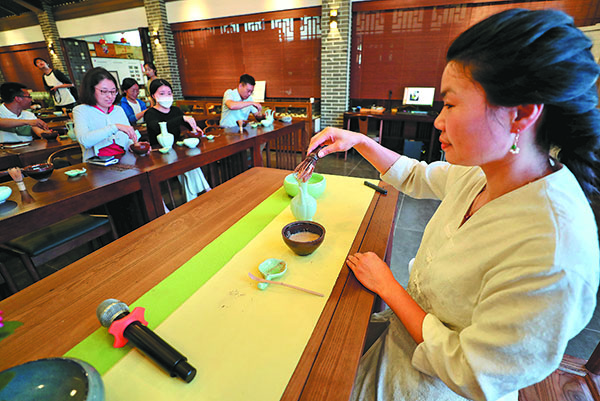 A teacher shares tea rituals of the Southern Song Dynasty (1127-1279) with visitors at Jingshan village in Hangzhou, Zhejiang province, earlier this month. [PHOTO BY ZHANG WEI/CHINA DAILY]
Village draws tourists with tea tradition steeped in Buddhist cultural heritage
Tea, a popular treat during Dragon Boat Festival, has been grown in Zhejiang province for thousands of years.
In the past few years, a village in Hangzhou, the provincial capital, has begun tapping into its tea-growing tradition and Buddhist cultural heritage in its effort to become a tourist destination.
The village of Jingshan, a picturesque, rural community surrounded by vast stretches of terraced tea fields in the west of Hangzhou, is the only area that cultivates its namesake produce, Jingshan tea leaves.
When the tea leaves are soaked in simmering water, they take on a slender, fragile appearance, a green and shiny color, and a clear and fragrant aroma, and a bright-green beverage is produced.
The tea, and its namesake temple tucked in cloud-enveloped Jingshan mountain just a few kilometers away, has become famous among tea lovers. Beverage makers, like Nongfu Spring, have rolled out zero-calorie drinks featuring Jingshan tea.
The fanfare has transformed the village into a tourist attraction for urbanites from nearby metropolises, such as Shanghai and Nanjing, capital of Jiangsu province.
Zigzagging, moss-coated stone slabs lead visitors through rows of farmhouses.
Waist-high fences give peeks into the rural lifestyles in the courtyards.
Yu Ronghua, the village's Party chief and a master of tea frying techniques, said tea growing operations quickly grew in the village in the 1970s. By now, 70 percent of its 1,600 residents have become somewhat involved in tea production, be it running plantations, frying tea leaves or promoting tea ceremonies.
"We're attempting to build the village into the country's first that boasts both Buddhist culture and tea culture," he said.
August 4, 2023

July 27, 2023