China's smart home industry embraces rapid development
Today, smart home devices are more and more popularized, bringing much more convenience to people's daily life. New technologies, investment and business forms in the smart home industry are thus one of the keys to the transformation and upgrading of China's traditional industries.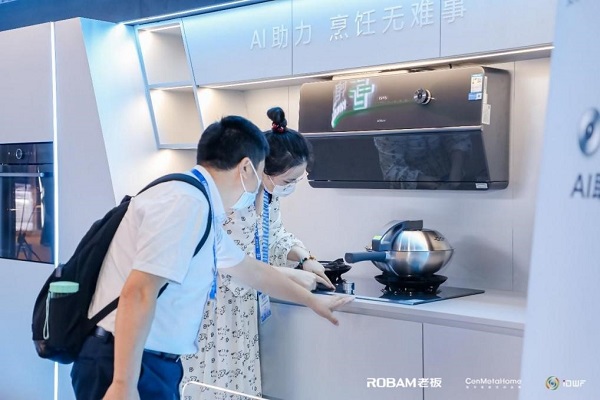 ROKI digital kitchen appliances manufactured by Robam Appliances are exhibited at the 21st China Internet Conference in Shenzhen, south China's Guangdong province, Nov. 15, 2022. (Photo from Robam Appliances)
New demands of consumers are what encourage traditional industries to make a change.
"We have gradually turned from a manufacturer of traditional lighting products into a provider of comprehensive and intelligent lighting solutions," said Nan Junxia, head of CHINT, a leading intelligent energy solutions provider in China.
The company has launched smart sockets that are able to directly replace the old ones, as well as smart home control panels and sensors that can be placed anywhere. With the products offered by the company, the brightness and colors of lights can be controlled remotely on mobile phones.
Besides, the company has also developed a home-based intelligent nursing system that monitors the safety of seniors in real time through smart integrated circuits and sensors. The system would inform seniors' families or medical personnel immediately after it detects tumbles or lasting inactivity.
"Mr. ROKI, stir fry please," said Lin Xiaojia, user experience engineer with the cooking research center of Robam Appliances, a Chinese firm specialized in manufacturing household kitchen appliances.

Soon, an automatic range hood started working, and the man selected a home-style dish on a color display that read "cloud recipe" and turned on a smart kitchen stove, which automatically adjusted the flame according to the dish Lin had selected. Then an "unattended wok" began stirring the ingredients in it. The temperature in the wok and a timer were displayed on a screen on the cover of the wok.
A major difference between the ROKI digital kitchen appliances and traditional kitchen appliances is the "Mr. ROKI," an AI assistant that connects different sets in the kitchen and thus creates new scenarios through inter-device collaboration.
In a "future factory" of Robam Appliances in Linping district of Hangzhou, east China's Zhejiang province, researchers have turned recipes into digital curves based on the variation of ingredients' mouthfeels and nutrition in different temperatures and under different cooking methods. It is learned that thousands of digital recipes have been developed for ROKI digital kitchen appliances, which not only make cooking much easier for users, but also help them create their own digital recipes that can be shared with more people.
The transformation and upgrading of home appliance manufacturers rely on the common efforts and collaborative innovation of all enterprises along the industrial chain.
Robam Appliances has developed a high-definition camera module with fisheye and wide-angle lens in cooperation with an optical company, which serves as an "eye" for the "unattended woks" and intelligent combi ovens. The camera offers recommendations based on the ingredients it recognizes and observes the variation of ingredients' colors to avoid overcooking.
Besides, the Chinese manufacturer of household kitchen appliances also joined hands with a tech firm in Shenzhen to develop an infrared thermometer module that controls the switch and ventilation of range hoods and smart stoves based on the variation of temperature.

Sensor, integrated circuits, and controller developers, as well as other enterprises in the upstream of the industry, have reaped fruitful results in their cooperation with manufacturers of smart home devices. Lower-stream enterprises are also working to build relevant platforms, systems and comprehensive solutions.
In an experience center of CHINT, a number of smart home devices are exhibited, including automatic door locks, smart air conditioning systems and smart shower systems.
Enterprises in the industry have independently developed smart home ecology platforms, which are constantly extending smart home products and services relying on internet of things, big data, and smart technologies.
According to statistics, the Chinese smart home market jumped from 260 billion yuan ($36.25 billion) to 580 billion yuan from 2016 to 2021, with an average annual growth of nearly 20 percent. The smart home industry of Zhejiang province alone is expected to hit 500 billion yuan in 2025.
August 4, 2023

July 27, 2023