Hangzhou districts to strive for innovative development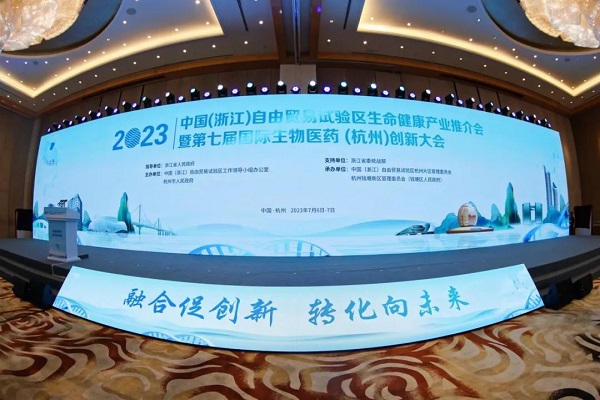 The conference is held on July 6. [Photo/WeChat account: gh_2e0e45951027]
Hangzhou's two urban areas, Qiantang district and Binjiang district, have been selected as Pilot National Independent Innovation Demonstration Zones and Pilot Free Trade Zones.
The selection aims to promote the in-depth integration of the two zones and experiment with new way to bring about technological and institutional innovation.
The selection was announced at the 2023 China (Zhejiang) Pilot Free Trade Zone Life and Health Industry Promotion Conference in Hangzhou on July 6.
Renowned domestic and international pharmaceutical companies, experts, consultants and professionals from the investment and financing industries provided suggestions and advice for the domestic biopharmaceutical industry.
Two new reports on the FTZ's development of the biomedical industry were released at the event, inspiring various blocks within the zone to benchmark advanced national rules and regulations.
In addition, the Zhejiang Pilot Free Trade Zone Enterprise Innovation Development Alliance's Biopharmaceutical Sub-Alliance was established the same day.
The Zhejiang Provincial Association of Europe-America Alumni Biopharmaceutical Committee and Hangzhou Pharmaceutical Port Management Office held a cooperation ceremony during the conference, through which returned overseas students were able to understand the local development characteristics and establish a communication channel with local governments and relevant institutions.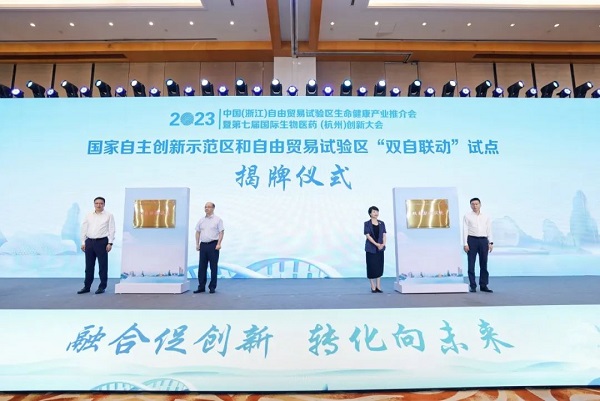 The conference is held on July 6. [Photo/WeChat account: gh_2e0e45951027]
August 4, 2023

July 27, 2023