Preserving West Lake Longjing tea by hand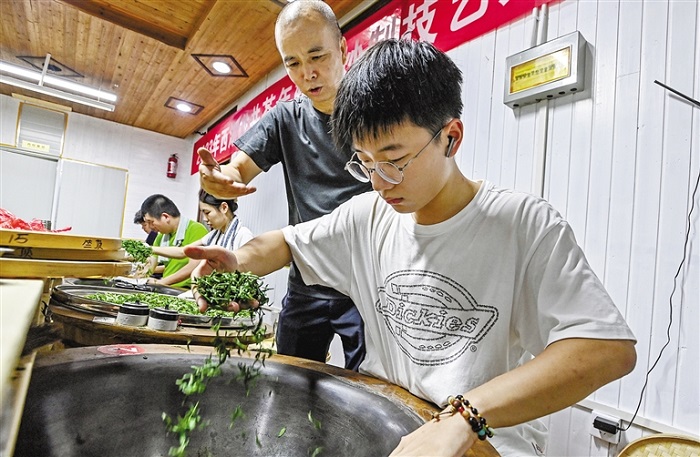 A teenager learns to stir-fry Longjing tea by hand. [Photo/hangzhou.com.cn]
With the opening of the 2023 West Lake Longjing Tea Youth Stir-Frying Training Session, tea inheritors in Hangzhou have gathered together once again for their annual tea-stirring study.
The training camp will run from July 3 to 21. A total of 21 organizations will help train participants across nine villages. There are eight new training sites this year, and the number of trainees has increased by 37.5 percent, with 186 returning trainees and 155 new trainees, most of which are youngsters.
As a gen-Z tea inheritor, Wang Wenbo said that he originally thought learning tea-stirring would be dull and considered it an outdated craft. But after training, he discovered that most people learning tea-stirring are young people of a similar age. They all live in tea villages, not only sharing common interests but also being able to learn from each other and progress together.
The youngest trainee this year was born in 2007. The proportion of female trainees this year is also much higher than in previous years at 41 percent.
Tang Xuewen is a teaching instructor at the Lingyin village training site. He is a native of the Lingyin Tea Village and has been learning tea-stirring since the age of 19, accumulating decades of experience.
"It's my first time teaching the youngsters from our tea village, and I didn't expect to find so many talented individuals. Everyone is hardworking. Despite the hot weather, no one arrives late or leaves early. After each day's lessons, they stay behind and continue to practice."
Zhu Junyi from Lingyin village was one of the talented individuals praised by Tang. Having just finished his high school entrance exams this year, he chose to give up traveling with his friends and instead partake in this year's tea village training.
He is young but already has plans for his future: "My family is involved in tea production, and I have chosen to major in culinary arts in college. I want to continue developing in this field, combining catering with tea and creating a catering business for our village."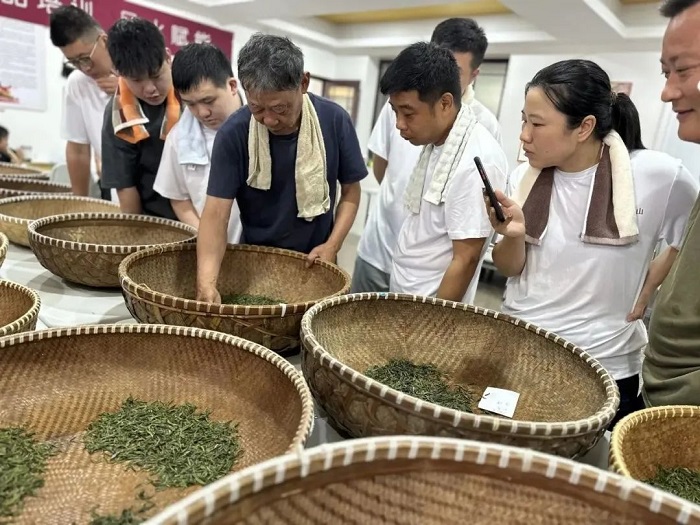 Youngsters learn from a professional at the Wenjiashan Tea Village in the West Lake scenic area in Hangzhou. [Photo/hangzhou.com.cn]
August 4, 2023

July 27, 2023