Farewell to Hangzhou: Intl students celebrate graduation with radioactive prom
It is a time of contrasting emotions for 2023 graduates, who are filled with both eager anticipation and a sense of uncertainty.
"I'm quite excited about the future, but at the same time, I'm also quite concerned," shared Choi Yu Min, a newly-graduated Korean bachelor in Landscape Design from Zhejiang University.
A significant number of international students in Hangzhou likely share similar feelings.
Nevertheless, regardless of what lies ahead and where their life journeys may lead them, on June 30, nearly 90 Zhejiang University students came together for the 2023 "Radioactive" Prom, a final gathering to commemorate years of academic dedication, friendship, and life in Hangzhou.
For international students, a prom or graduation dance party is an important tradition.
If you had witnessed these students dancing, smiling, and capturing moments with their classmates and friends against vibrantly decorated photo zones, words like "youthful" "bright" and "promising" would have come to your mind.
The joyful students, dressed in stylish party outfits, immersed themselves in the lively atmosphere, enhanced by vivid decorations and an engaging prom agenda. The audience was captivated from the very beginning by a breath-taking breaking dance performance by the IDKU street dance club. The two energetic performers showcased the beauty of the dance, which will make its debut at the Asian Games as a new official competitive sport this year.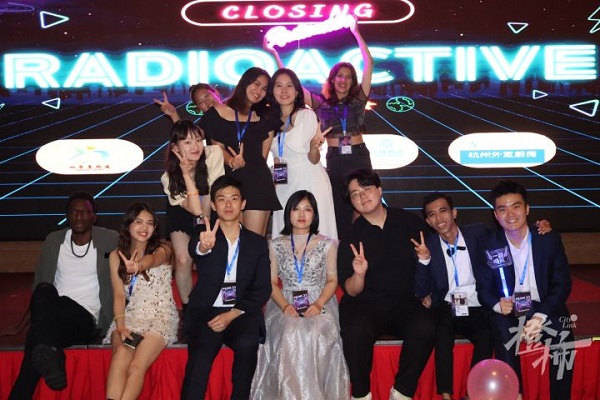 International students pose for a photo at the prom. [Photo/hangzhou.com.cn]
The graduating students and their juniors also tried their luck during a thrilling lucky draw session. Ten students won Asian Games merchandise such as mascots and backpacks. Following that, the dance department of Zhejiang University Lantian Sports and Cultural Development Center mesmerized the crowd with three captivating K-pop dances, showing their support and cheering for both the graduates and Hangzhou Asian Games.
Finally, DJ Massbang provided an electrifying mix of Western, Latin, and Korean pop songs, as well as Tech House and other music genres. Whenever a song in their mother tongue played, students enthusiastically sang along and danced with even more vigor.
"The graduation party provided a marvelous conclusion to my university life. Here, I not only reunited with my university friends but also had the privilege of having my Panamanian friends participate, making this prom even more remarkable and distinctive," said Pan Zhang Erika from Panama, who just completed her bachelor's degree in International Economy and Trade at Zhejiang University.
In conclusion, while celebrating the 2023 Hangzhou graduation, we extend our heartfelt congratulations to all the graduates on their remarkable achievement. May your future be filled with success, happiness, and excitement!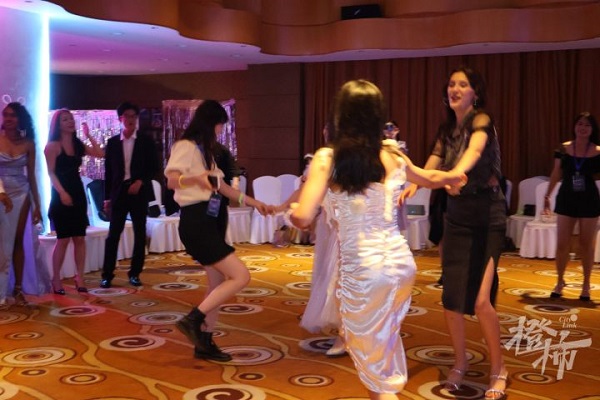 Students dance at the prom. [Photo/hangzhou.com.cn]

August 4, 2023

July 27, 2023