Geely, Renault to build powertrain joint venture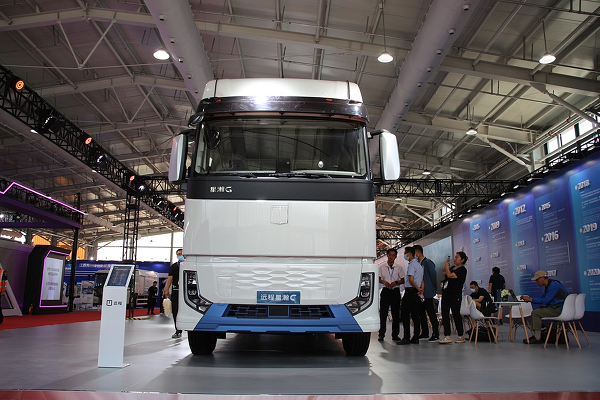 Geely showcases one of its methanol trucks at the 5th Methanol Vehicles and Fuel Application Equipment Exhibition held in Beijing from June 15 to 16, 2023. [Photo provided to chinadaily.com.cn]
Geely said on Tuesday it has signed a binding agreement with Renault to build a powertrain technology company that will offer products to both of the two parent companies and other carmakers.
Li Shufu, chairman of Geely Holding Group, said "With this agreement, we reiterate our commitment to leveraging our group-wide technological expertise and brand portfolio to pioneer the journey to greater sustainability and value creation which will lead to better consumer experiences."
The agreement came after the two companies' framework agreement was announced in November 2022.
According to the new deal, the two companies will build a 50:50 joint venture, which will be headquartered in the United Kingdom.
It will include 17 engine plants and 5 R&D centers in 3 continents with over 19,000 employees.
The joint venture will be led by Renault Group and Geely, with equal board members to formulate and execute strategies and set the direction for the company.
Luca de Meo, CEO of Renault Group, said when it comes about the global race for decarbonizing road transports, there is no time to lose, and it will not be business as usual.
The joint venture will first have two operational centers in charge of the respective operations: one in Madrid, Spain, for Renault Group and the other in Hangzhou for Geely.
The two companies said they will transfer intellectual property to the operational centers enabling them to be fully autonomous in developing future powertrain technologies capable of addressing all market expectations.
The new joint venture's product portfolio and regional footprint could offer solutions for 80 percent of the global ICE and hybrid vehicle market, said Geely.
The new powertrain company's customers will first include Renault, Geely, Volvo, Proton, Nissan, Mitsubishi, and PUNCH Torino. It is expected to offer solutions in powertrain technologies to third-party car brands in the future.
Aramco, which signed a letter of intent with Renault and Geely earlier this year, is evaluating a strategic investment in this new powertrain technology company, said Renault and Geely.
August 4, 2023

July 27, 2023