Key growth role seen for platform firms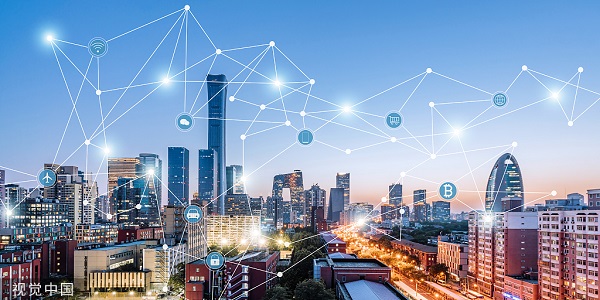 [Photo/VCG]
Platform: Sector called key enabler of recovery
Premier Li Qiang encouraged platform companies on Wednesday to maintain firm confidence, keep innovating and improve their international competitiveness, saying that the development of the platform economy is promising as China builds a modern socialist country in all respects.
Speaking at a symposium in Beijing with several major platform companies, Li said the platform economy emerged as the times required and is now playing an increasingly prominent role in the country's overall development.
The platform economy is economic and social activity facilitated by platforms which are typically online matchmakers or technology frameworks.
It has created space for expanding demand, served as a new driver for innovation-driven development, and provided support for public services, he said. The premier also called on platform companies to better empower the real economy and proactively fulfill their social responsibilities.
Platform enterprises are expected to fully distinguish themselves in leading economic growth and creating jobs, as well as in the international arena, Li said.
The premier underlined the importance of refining policies related to investment access and the security review of new technologies and businesses. A system that is able to carry out transparent and predictable supervision on a regular basis should be established, he said.
Such efforts will help to lower the compliance costs for enterprises and promote the sound development of the industry, thus contributing to China's efforts in fostering a market environment of fair competition, Li said.
He also said it is necessary for governments at all levels to establish regular communication mechanisms with platform companies. This will enable them to understand the difficulties and demands of enterprises and perfect related policies and measures in a timely manner, in order to promote the well-regulated, sound and sustainable development of the platform economy, Li said.
Also on Wednesday, China's top economic regulator pledged efforts to support platform companies to play a bigger role in bolstering economic growth, job creation and international competition.
The National Development and Reform Commission and other government departments have recently conducted fact-finding research of platform enterprises and unveiled a number of green light investment cases. Green light investment refers to investment deals mainly involving new technologies and services that can help empower the real economy.
The NDRC said the country's top 10 platform companies in terms of market valuation have stepped up investments in fields such as chips, autonomous driving, new energy and agriculture in the first quarter of this year, an increase of 15.6 percent compared with the previous quarter.
These investments will promote technological innovation and empower the development of the real economy, the NDRC said, adding that the authorities will continue to announce new green light investment cases for platform enterprises.
China's latest push to facilitate the development of platform companies will motivate Chinese entrepreneurs to double down on indigenous innovation to achieve breakthroughs in crucial technologies, shore up market confidence and inject strong impetus into the country's economic recovery, experts and company executives said.
Pan Helin, co-director of the Digital Economy and Financial Innovation Research Center at Zhejiang University's International Business School, said the latest policy developments have sent a clear signal that China will further support the standardized and healthy development of the platform economy.
Platform companies, which mainly include tech heavyweights such as Alibaba Group Holding and Tencent Holdings that leverage digital platforms to provide services, have become a key driving force in bolstering technological innovation, and are expected to usher in a new round of development fueled by the government's policy support, Pan said.
"They will play an increasingly prominent role in stabilizing economic growth, optimizing the allocation of resources, improving people's livelihoods and providing more flexible job opportunities," Pan added, calling for efforts to encourage platform enterprises to beef up investment in state-of-the-art technologies and forward-looking fields that better serve the real economy.
According to the NDRC, the top 10 Chinese platform companies have seen their research and development input surpass 500 billion yuan ($69.7 billion) from 2020 to 2022, with more than 50,000 patents obtained.
Among the notable investment cases disclosed by the NDRC, Tencent has continued to pour capital into Shanghai-based artificial intelligence cloud computing startup Enflame Technology, in a bid to promote the R&D and commercial application of homegrown high-performance AI chips.
Chen Duan, director of the Central University of Finance and Economics' Digital Economy Integration Innovation Development Center, said that platform enterprises have served as a key enabler in promoting the recovery of the economy amid downward pressure and external uncertainties.
She underlined the significance of giving full play to platforms' strengths to better allocate resources and promote the transformation and upgrading of micro, small and medium-sized enterprises.
"The setup of green light investment cases regarding the country's platform economy will guide capital to expand in an orderly manner under the framework of laws and regulations, and flow into the segments that can help bolster industrial upgrade and technological innovation," Chen added.
Xu Ran, CEO of Chinese e-commerce platform JD, said the company has invested more than 100 billion yuan in basic science and technology R&D since 2017, and is committed to strengthening its capacities in supply chain infrastructure.
Chen Bing, deputy director of the School of Law at Nankai University in Tianjin, said that the country's regulation of platform companies will focus on guiding the companies toward better compliance, which will also boost market expectations and confidence.
August 4, 2023

July 27, 2023