Tech company wakes up need for BCI applications
FlectoThink ramps up innovations focusing on sleep economy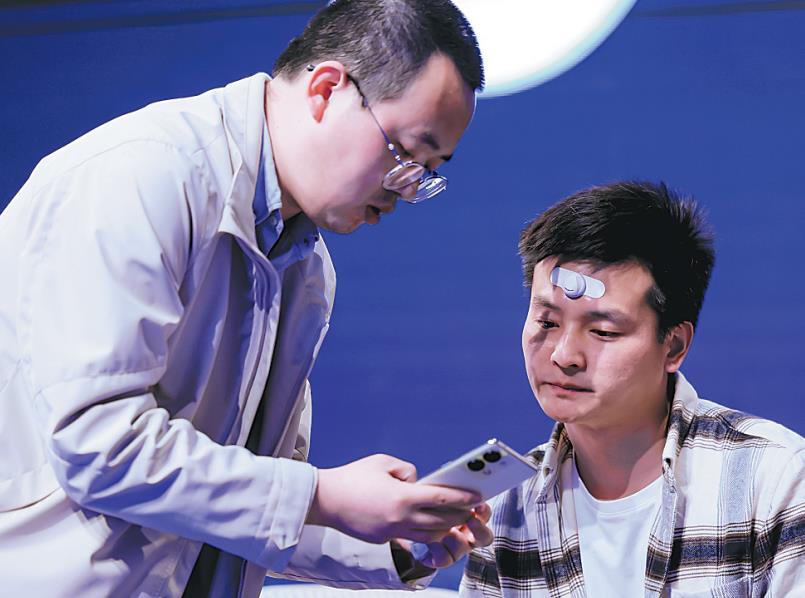 An employee (left) of FlectoThink shows a potential buyer how to use a brain-computer interface sleep improving device from the company earlier this year. Provided to China Daily
"Wouldn't be great if ordinary people could afford the latest tech gadgets?" asked Sun Yu, founder and CEO of FlectoThink, a noninvasive brain-computer interface startup from Hangzhou, Zhejiang province.
Earlier this year, the company partnered with an electric vehicle company to launch an electronic bracelet that is enabled by BCI technology. Just by moving the fingers, the car's windows can be opened autonomously.
"With the introduction of BCI into the vehicle industry, only when such cutting-edge technology is applied to daily life scenarios can its value be maximized," he said.
It is also part of the motivation for Sun and his company to enter the noninvasive BCI business, which allows users to send messages or commands to outside devices rather than using voice or touch commands.
The company has developed a series of BCI products focused on consumer electronics and healthcare devices. One of the major products is a nanoscale intelligent sleep patch to assist with sleep.
With an overall weight of about 5 grams and the size of a band-aid, the gadget can collect data such as brain wave, blood oxygen and body movement during sleep to help improve sleep quality.
"Compared with other sleep track bands in the market, using BCI technology is much more accurate," Sun said. "Also, the future development direction of BCI terminals is expected to be more lightweight, portable and interactive."
Currently, most hospitals use a heavy PSG monitor to do such work, while Sun mentioned that the accuracy rate of its sleep patch can reach 90 percent compared with the PSG monitor.
According to him, with BCI technology, people with sleep disorders will no longer need to wear different kinds of wires attached to their bodies. They can stay at home, put the light patch on their head and go to sleep, he said.
Data from market consultancy iiMedia showed that China's sleep economy has grown at a rapid speed and is expected to exceed 1 trillion yuan ($140.2 billion) by 2030.
"Notably, the patch can interact with other software and hardware in the bedroom, such as noise playback, lighting, mattresses and aromatherapy machines, to automatically improve the user's sleep quality by adjusting the external environment," Sun said.
Gao Xiaorong, a tenured professor at Tsinghua University, said in an interview during the Zhongguancun Forum that Chinese companies have gained some momentum in noninvasive BCI technologies, involving healthcare education, entertainment and other industries.
FlectoThink, which also has offices in Atlanta, Georgia in the United States, said that the company is beefing up efforts in overseas markets like the US with rising overseas consumers going crazy for forefront tech.
"To truly realize full intelligence, the consumer market needs BCI," Sun added. "When you feel cold, you don't need to tell the device or use a controller to adjust the temperature. The air conditioner will automatically feel that you are cold and increase the temperature itself."
August 4, 2023

July 27, 2023