BD launches new innovation center in Hangzhou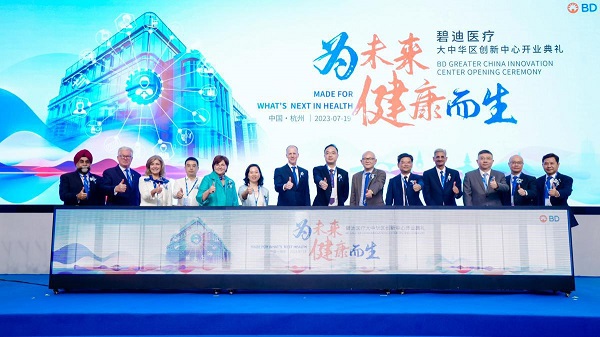 BD inaugurates its first Greater China Innovation Center in Hangzhou city, Zhejiang province, on Wednesday. [Photo provided to chinadaily.com.cn]
US-based global medical technology company Becton and Dickinson Company inaugurated its first Greater China Innovation Center in Hangzhou city, Zhejiang province, on Wednesday.
As the company's first digitalized comprehensive innovation center in China, the facility is equipped with a professional digital marketing platform, laboratories, an updated customer experience center, and multifunctional training and incubation spaces.
"China has been a vital market for us. As we step into a new era of healthcare innovation with the opening of the GCIC, we will continue to focus on addressing the real-world challenges that Chinese healthcare institutions and patients face as we strive to contribute to healthier communities and a healthier China," Tom Polen, chairman, CEO and president of BD, said at the opening ceremony.
The GCIC has a total floor space of more than 3,400 square meters that hosts four core modules: the Customer Experience Center, the Professional Training Center, the Innovation Hub, and the Digital Innovation Center.
Equipped with world-leading laboratories and a simulation environment, the Innovation Hub provides an innovation space to combine clinic practices with engineering activities. The hub will empower BD partners and help clinical experts apply research findings. Furthermore, the training programs will enable clinical experts and engineers to interact with each other face to face, and this will help the R&D team obtain timely and in-depth feedback from clinicians that would improve the efficiency and quality of product development.
The GCIC is expected to host more than 150 internal and external training events a year and more than 15 forums that will serve as a platform for interactions and exchanges between enterprises, local industry experts, governments, think-tanks, industry partners, and academics.
August 4, 2023

July 27, 2023