National Theater of China to be set up in Yuhang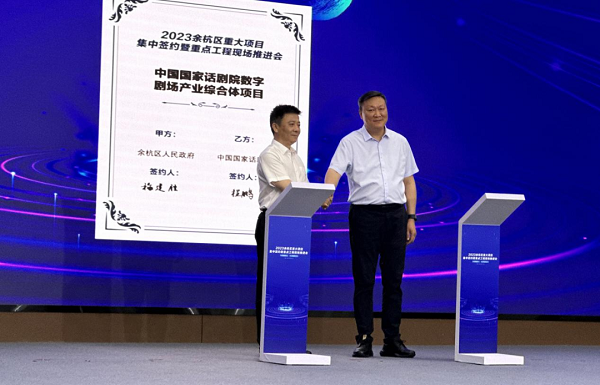 Hangzhou's Yuhang district and the National Theater of China ink a strategic cooperation agreement. [Photo/WeChat account: NTC2001]
Hangzhou's Yuhang district is set to welcome the National Theater of China, according to a recent strategic cooperation agreement between the Yuhang government and the National Theater of China.
Nestled in the serene locale of Liangzhu, the newly envisioned National Theater of China aims to become a symbol of the country's strides in cultivating a modern culture infused with cutting-edge digital technology.
The innovative endeavor seeks to revolutionize artistic presentations by seamlessly blending digital elements into the performances, showcasing China's latest achievements in the realm of contemporary culture.
As the collaborative efforts between partners take center stage, the partnership will introduce fresh and avant-garde approaches to digital entertainment, weaving together elements of culture and tourism. The goal is to accelerate the construction of digital performing arts, forging a harmonious synergy between technology and creativity.
With great hope and anticipation, both parties aspire to leverage the collective advantages of Yuhang district, turning it into a hub of digital culture.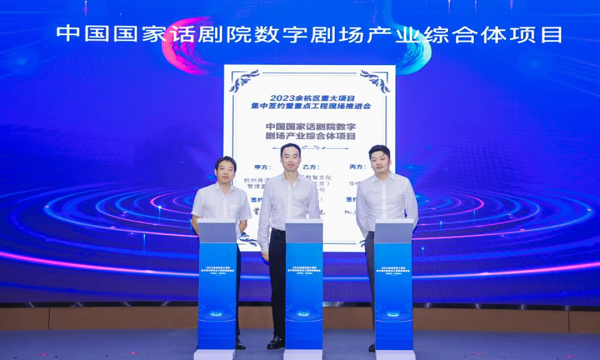 Hangzhou's Yuhang district and the National Theater of China ink a strategic cooperation agreement. [Photo/WeChat account: NTC2001]
August 4, 2023

July 27, 2023