First-tier cities offering higher salaries to fresh graduates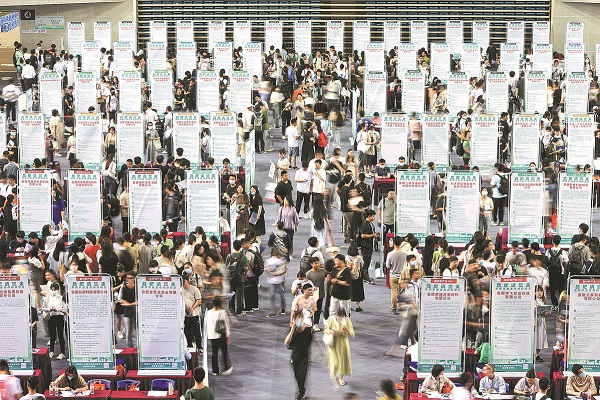 A job fair for college graduates is held at the Hefei Sports Center in Anhui province on May 29. WANG YISHENG/FOR CHINA DAILY
Companies in first-tier cities are offering fresh graduates higher salaries, with Shanghai occupying the top slot with a starting salary of 7,296 yuan per month, Beijing Youth Daily reported.
Beijing ranked second with a monthly median salary of 7,251 yuan, followed by Shenzhen at 7,131 yuan, and Guangzhou at 6,623 yuan, the newspaper said quoting a report by the HR Research Center under the recruitment portal 51job.
Among the new first-tier cities, Hangzhou in Zhejiang province, Nanjing and Suzhou in Jiangsu province stay ahead in the ranking, thanks to high level of economic development in the Yangtze River Delta.
According to the report, 53.5 percent of companies prefer increasing salary for the 2023 fresh graduates, 36.7 percent plan to keep it flat, and 9.8 percent want to reduce the starting salary.
The survey also found more fresh graduates prefer working for State-owned enterprises, accounting for 37.9 percent of the total, followed by government offices and public institutions, at 25.2 percent.
The top three factors that affect fresh graduates' decisions to accept a job offer or not are salary and welfare, industry development prospect, opportunities and development space.
August 4, 2023

July 27, 2023