'Shuttle trucking' makes air transport more efficient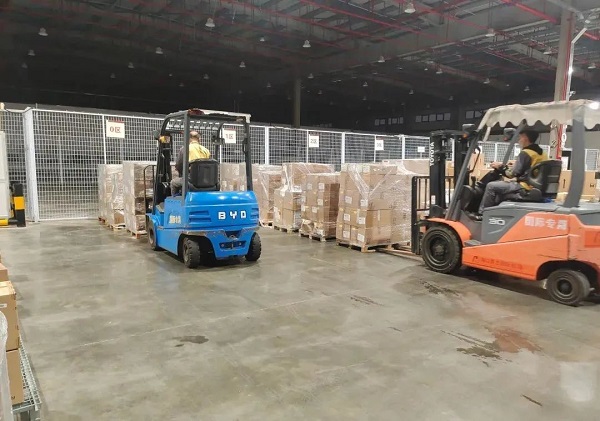 Goods are stored in a warehouse before they are shipped away by trucks at Haikou Meilan International Airport, south China's Hainan province. (Photo provided by Haikou Meilan International Airport)
A flight from Billund Airport in Denmark recently arrived at Hangzhou Xiaoshan International Airport in east China's Zhejiang province, carrying 39.6 tons of imported goods.
The cargos were soon cleared through customs. Of that, 39.3 tons, mainly chemicals and spare parts, were shipped by trucks to Shanghai and Beijing.
These shuttle trucks, which run on fixed schedules and routes, connect the final destinations of cargos with the airports at which they arrive. This air-land intermodal transportation utilizes trucks' cost and flexibility advantages to meet enterprises' logistics demands.
It is estimated that shipping goods indirectly by consolidating cargo on flights to Hangzhou first and then trucking them to final destinations in China, reduces shipping costs per kilogram by 10 percent to 15 percent compared to direct air shipping to each destination.
In the first five months of this year, the Hangzhou Xiaoshan International Airport Customs supervised 4,039 truck shipments totaling nearly 9,109 tons, up 78.3 percent and 16.6 percent respectively compared to the same period last year.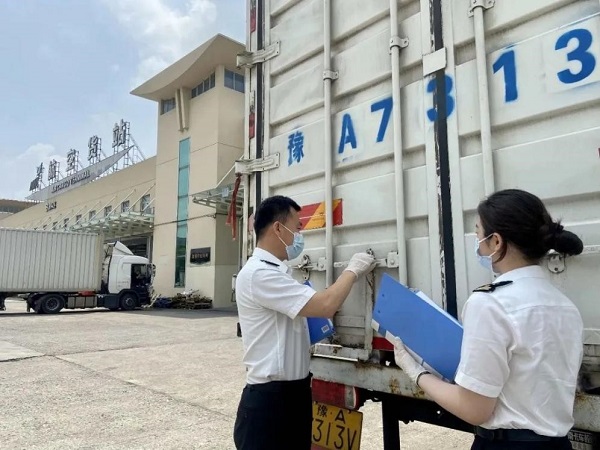 Customs officials inspect a truck that transfers goods delivered by a cargo flight from overseas at Hangzhou Xiaoshan International Airport, east China's Hangzhou province. (Photo/Wu Xiaojia)
To ensure efficient operations of the shuttle trucks, the Hangzhou Xiaoshan International Airport Customs implemented a 24/7 clearance plan to quickly process cargo. This mechanism enables goods to be shipped to their final destinations are cleared through customs on the same day they arrive in China.
The Customs is cooperating with airlines and relevant enterprises to expand the coverage area of the trucking service and contribute to the integrated logistics development in the Yangtze River Delta.
As China's economy and society continue to develop, there are increasing demands for more efficient and convenient logistics transportation. As a form of air-land intermodal transportation, these shuttle trucks are more and more favored by the market.
Guangxi Civil Aviation Industry Development based in Nanning, capital of south China's Guangxi Zhuang autonomous region, has launched an interprovincial shuttle truck service for imported express parcels to promote air-land transport connections in Nanning. This has greatly enhanced the capacity of Nanning's airport to guarantee timely delivery of imported express parcels.
The airport of Nanning has an annual international air cargo and mail processing capacity of 150,000 tons. It operates 11 international cargo routes to 12 cities in 8 countries of ASEAN and South Asia.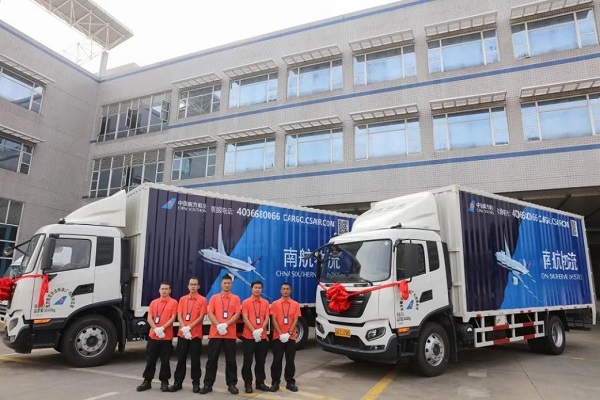 Photo shows a trucking team of China Southern Airlines. (Photo from the newspaper affiliated to China Southern Airlines)
Thanks to the shuttle truck service, seafood, fruits and other featured products from ASEAN countries can enter the Chinese market more conveniently. The airport of Nanning has become an important channel for ASEAN products to expand their market in China.
A similar services has been launched by Haikou Meilan International Airport, south China's Hainan province, too, which sources goods from Guangzhou, Shenzhen, Zhengzhou and other cities and then exports them together. This facilitates effective connections between the Hainan Free Trade Port and domestic and foreign cities. At the same time, it expands the airport's import channels, enhances coordination between air cargo services, reduces transportation costs for businesses, and further improves the airport's freight capacity.
Experts said that the air-land intermodal transportation takes advantages of China's developed expressway network and flexible trucking services, and thus well connects air and land transport and makes air transport safer and more efficient.
As innovations are made to improve such shuttle truck services and the transport network, the high-quality development of China's logistics industry is expected to be further advanced.
August 4, 2023

July 27, 2023