From rust to renaissance: What is refueling China's old manufacturing hub?
In a symphony of China's innovation and modernization endeavors, the old industrial hub in the country's northeast has ignited a noticeable surge in equipment manufacturing during the first half of this year.
Jilin Province has emerged as a regional locomotive, with its equipment manufacturing sector recording a 15.2% year-on-year increase in value, fueling confidence that the economy is being steered toward brighter horizons.
Against the backdrop of a historical landscape that's home to China's first national-brand car, first subway and first commercial remote sensing satellite company, many new triumphs have been achieved in Jilin Province.
Among them, China First Automotive Works (FAW) reported an astounding 153% year-on-year surge in exports in the first five months of the year, marking a global milestone. Not to be outdone, the contribution made by Jilin Province has extended beyond the Earth's atmosphere, with over 100 satellites now successfully in orbit, including the remarkable "Jilin-1" satellite constellation. And the pride-of-the-nation "Fuxing" high-speed train, specially designed for the upcoming 19th Hangzhou Asian Games, has gracefully descended from the CRRC Changchun Railway Vehicles production line.
Advancing to the global forefront with key technologies
"This newly developed train incorporates many of the latest technological achievements from China's high-speed rail industry. It will serve as a platform for both domestic and international athletes, referees and spectators to experience the wonderful diversity of China and Asia," Yin Zhenkun, deputy director of the company's National Engineering Research Center of Rail Transportation Equipment, introduced the train that will be put into operation between Hangzhou and the five co-host cities of the Asian Games.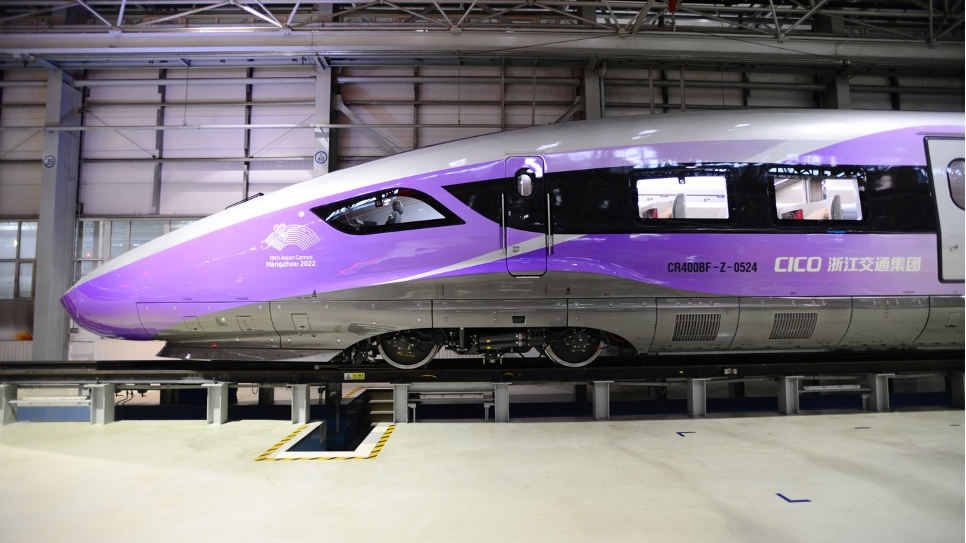 The special Fuxing bullet train has been designed for the Hangzhou Asian Games in Changchun City, northeast China's Jilin Province. / Wang Jiaxiang
That means the train will travel across mountains and rivers in the region. The CRRC designer said they focused on ensuring passengers experience a smooth ride even at high speeds. "We successfully enhanced its stability to the point where only water in the cup gently sways during travel," said Yin. "That is based on considerable efforts we invested in the design and manufacturing process."
In addition to addressing passenger discomfort caused by traveling through tunnels, the smart train is equipped with technology to regulate air pressure and temperature. Besides, the train's design minimizes air resistance, resulting in up to 10% energy savings. That enables a single train to save up to 1.8 million kilowatt-hours of electricity per year.
Liu Junyang, chief designer of the Intelligent Electric Multiple Unit (EMU) for the Beijing Winter Olympics, says that since gaining independent intellectual property rights, Fuxing trains have undergone significant upgrades.
As a recent testament to China's now-world-leading high-speed rail technology, the country's latest model in the CR450 Fuxing series reached 453 kilometers per hour during test runs. It is said to be the fastest train in the world.
"Our self-developed trains are also becoming increasingly intelligent and environmentally friendly," said Liu. As he showed the inside of the cutting-edge marvel for the Beijing Winter Olympics, which promised a seamless travel experience during the grand sporting event, he mentioned that the toilet design is emission-free. And the interior of the train uses materials with a recycling rate of about 75% and a degradability rate of 50%, making it a significant advancement in the field of high-speed trains.
While the fruits of these accomplishments are intricately tied to the dedication of the research and development team, Liu explained that the most formidable challenge lies in translating imaginative ideas into practical reality. In his words, conceiving brilliant concepts is merely the starting point. Overcoming hurdles like technological immaturity and costly implementation requires unwavering determination. "The upgrades are rarely based on solitary endeavors," he said.
China's shining business card in the global market
In the exhibition hall of CRRC Changchun Railway Vehicles, we discovered the instructions given by President Xi Jinping during three visits to this train manufacturer. High-speed rail professionals here say his words have motivated them to strive for independent innovation and overcome technological obstacles. One particularly famous quote from Xi is his encouragement to the workers, urging them to make China's high-speed rail sparkle brighter as "a beautiful business card" for the equipment manufacturing sector in China.
Beyond establishing a robust industrial chain domestically, this renowned manufacturer is also extending its expertise to assist other nations in developing their railway networks, elevating the scale and diversity of the sector as a global player.
"Our products have been sold to more than 20 countries and regions around the world. We customize different rail transit products according to local needs and offer related supporting industrial services," said Wang Dayong, vice minister of the company's publicity department.
According to Wang, CRRC Changchun Railway Vehicles showcased its remarkable capabilities during the conclusion of the annual pilgrimage to Mecca in Saudi Arabia on July 1st. The Chinese-built Mecca Metro played a pivotal role in easing traffic congestion and providing safe, comfortable, and convenient services for passengers during the event. That came after the company built a 4S store in Saudi Arabia in 2022 and undertook the mission to revamp the Mecca pilgrimage subway that has been in operation for 10 years to ensure its functions can reach the state of a new one.
The renovated subway, launched this year, facilitated a total of 2,208 train trips and safely transported over 2.15 million passengers. "Our staff worked tirelessly for 158 hours to ensure the seamless operation of the subway, covering a remarkable distance of over 50,000 kilometers in scorching temperatures soaring as high as 47 degrees Celsius," Wang said.
In fact, CRRC Changchun has made a name for itself through its custom-tailored products, designed to meet the unique needs of specific locales during major events such as the 2014 FIFA World Cup in Brazil and the Rio de Janeiro Olympic Games in 2016. But the railway vehicle manufacturer is one of many forerunners in the region. Vehicles made in Jilin Province have also conquered markets worldwide.
In the first half of this year, a total of 46,000 cars were reportedly exported from Jilin Province. In the bustling streets of Changchun City, the capital city of Jilin Province, it is common to come across vehicles manufactured by FAW. By 2022, the leading automaker's overseas operations had expanded to 85 countries and regions, including Europe, Africa, Southeast Asia, and Latin America, having established over 120 overseas dealerships and exported a total of 400,000 vehicles. That comes with a series of international cooperation projects contributing to a complete auto industry chain, covering research and development, procurement, manufacturing, logistics and marketing.
Just seven decades ago, FAW launched its operations in this region, marking the beginning of China's exploration into the automobile industry. Over the years, the company has developed iconic national brands such as Hongqi and Jiefang. The brand value of FAW is now reported to have surpassed 420 billion yuan, with the Jiefang and Hongqi brands each valued at over 110 billion yuan.
The company also saw a strong increase in vehicle exports in the first half of this year, with the latest news reports suggesting its premium brand Hongqi experienced a remarkable 172% surge in exports, and Jiefang saw a substantial 122% rise.
As FAW commemorates its 70th anniversary, the longstanding partnership with renowned international brands Volkswagen and Audi also marks its 35th anniversary. The three parties are dedicated to strengthening their collaboration and integrating more Chinese technologies. The plan also includes advancing the development of electric vehicles.
Standing outside the production base of FAW-Fudi, where the joint-venture power battery project between FAW and BYD just rolled out its first-ever battery pack, one can hardly imagine it was still barren land just a year ago. Northeastward, workers buzzed about constructing a FAW-Audi NEV Factory.
In a recent statement to the media, Jia Zengbo, chief of FAW-Fudi's engineering department, highlighted the significance of the batteries manufactured at this factory in powering Hongqi, Jiefang, Bestune's new energy vehicles, as well as supporting FAW-Audi's new energy project. "The project's first phase will achieve an annual capacity of 1.5 billion watt-hours, sufficient to meet the demands of 200,000 new energy vehicles and create employment opportunities for over 3,000 individuals," he added.
Infusing fresh vigor into the future
Song Jianan, a representative of the reception center of FAW Hongqi H9 Factory, revealed where the talent comes from – namely, the factory has collaborated with many universities and colleges that provide professional technicians and specialized researchers for FAW. "Every year, FAW offers internships and employment opportunities to students specializing in vehicle engineering. These students can apply their expertise in various tasks, such as modifying models on the assembly line and developing innovative appliances." Song underscored the fact that FAW established research and development centers to attract skilled individuals from both within and outside the region.
When talking about the secret of talent introduction, Zhang Jipeng, a specialist from the CRRC Changchun Railway Vehicles manufacturing center, showed us their "wall of smiling faces" – a wall full of photos of employees' smiling faces. "It offers incentives and cultivates a positive team spirit." Zhang explained that the wall reflects the fact that CRRC Changchun has always recognized the importance of talent in train production and scientific research. He added that many students graduating from vocational colleges and renowned universities across the country are involved in various processes of manufacturing and research. The company has also established institutions to support localized talent cultivation overseas.
Industry insiders in Jilin see technology, talent and innovation as essential to perpetual vitality. But in what direction will these elixirs propel Jinlin's manufacturing industry?
While China is on a mission to become a manufacturing powerhouse, as part of the national plan to establish a robust industrial system that thrives on the real economy, Chinese President Xi Jinping, during his multiple visits to Jilin Province, has also voiced concerns about advancements in the sector, with an emphasis on key technologies and industrial restructuring.
With deep-rooted histories tracing back to the nation's "First Five-year Plan," FAW and CRRC Changchun Railway Vehicles consistently seized opportunities for profound industrial transformation during the 14th Five-year Plan period, spanning from 2021 to 2025.
With the industrial giant actively shouldering its responsibilities, driving local employment, accelerating industrial chain upgrades and facilitating critical industrial breakthroughs, Jilin Province has conveyed a strong determination to continue to improve the scientific and technological innovation system, optimize the allocation of resources in order to facilitate industrial upgrading and promote the high-quality development of the real economy.
(Xiang Yi, Zhang Yaoyu, Ji Jiaxin, Zhou Qian, Chen Zihan, Kang Huaishuo, Chen Zhongrui, Duan Yufei, Liu Zihe, Wu Yixuan, Xia Tingyu, Yang Yiwen, Zhou Gege from the Communication University of China also contributed to the story.)
August 4, 2023

July 27, 2023