Funny you should say that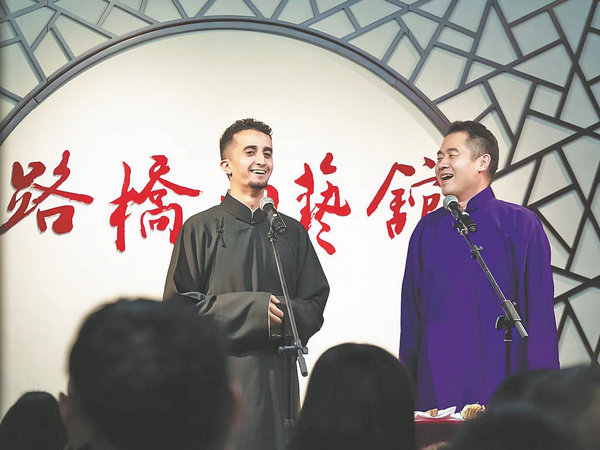 Musab Al Rudaisat (left) and his partner Liu Zhendong perform cross-talk at the Taizhou Luqiao folk art hall in Zhejiang province in June. [Photo provided to China Daily]
Arab cross-talk apprentice finds the right words to get a laugh, Alexis Hooi reports.
On a street in Hangzhou, capital of East China's Zhejiang province, many pedestrians turned to the foreigner in surprise as he started speaking fluently and rapidly — he was practicing local Chinese tongue twisters, with each repetition getting louder and louder.
It was a common encounter with Musab Al Rudaisat, 30, an Arab apprentice of Chinese cross-talk or xiangsheng, the traditional comedic act that is performed as a dialogue between two performers or as a solo monologue.
Al Rudaisat grew up in Jordan and is a graduating medical PhD student at Zhejiang University in Hangzhou. He came to China to pursue his studies in 2011 and has spent most of his time in the country since. Al Rudaisat has been one of the leading comedians at the city's Kailehui Cross-talk Club for the past five years.
The club performs traditional cross-talk comedy shows at multiple locations throughout the city; it recruits people from the younger generation, mostly comedians in their 30s, and has been dedicated to preserving, innovating and spreading the art and craft of Chinese cross-talk in southern provinces.
Xiangsheng can be traced back to the Ming Dynasty (1368-1644) and can comprise a lead speaker (dougen) who delivers punch lines and jokes and a supportive role (penggen) who reacts to the lead speaker's words. Unlike Western stand-up comedy, which often relies on disconnected one-liners and random stories, Chinese cross-talk presents a coherent, developing storyline with a beginning and end. It also incorporates linguistic devices such as puns, cultural references, dialect usage and other language-based humor, reflecting Chinese history and everyday life.
Motivated by his enthusiasm to understand Chinese culture and the language, Al Rudaisat watched countless Chinese reality shows to practice his Mandarin skills.
August 4, 2023

July 27, 2023