AI doctors take headache out of visits
Hangzhou-based digital healthcare company WeDoctor launches its online diagnosis service in both Chinese and English in March 2020. LONG WEI/FOR CHINA DAILY
Expert care reaches increasingly bigger chunk of population, closer to home
Ten years ago, when someone wanted to see a doctor in China, they needed to wait in long lines in hospitals to get a number, check in at a nurse station, and then wait to see an available physician.
All medical records were handwritten, and when inspections such as X-rays or CT scans were required, patients needed to carry all the printed results to the doctor. If follow-up visits were required, the materials had to be brought back again.
These days, it is much more convenient to see a doctor. Patients no longer need to wait in line, but simply need to make appointments online.
When entering a hospital, they get a registration paper from a machine, go to the department where they want to consult a doctor, scan a bar code on the registration paper to check in, and then wait for the first available physician.
During the consultation process, all medical records are digitally saved, and when a patient gets a diagnosis or test result, there's no need to bring the results to the doctor, as they are sent straight to the physician's computer.
During the result analysis process, digital technology greatly relieves burdens on medical staff. Artificial intelligence-assisted CT reading systems generate analysis in 15 seconds, with an accuracy rate of 90 percent. It can help radiologists accurately identify lesions, issue diagnostic reports and enable electronic film image sharing to increase efficiency.
The above improvements show how China's digital healthcare sector has developed over the past few years. The latest data from global consultancy Deloitte showed that between 2020 and 2023, China's digital healthcare market would rise from 42 billion yuan ($5.8 billion) to 112 billion yuan, with a compound annual growth rate of 40.2 percent.
Digital healthcare refers to medical services provided with the help of digital technologies, including remote consultations, internet hospitals and smart healthcare.
Tan Liang, chief growth officer at Deloitte, said, "In recent years, with cross-border collaboration, China's digital healthcare market has realized major achievements."
Liang said that currently, China's digital healthcare sector is undergoing a transformation from the 2.0 era to the 3.0 era, where digital technologies are deeply integrated with the overall healthcare sector.
According to the 2022 Digital China Development Report issued by the Office of the Central Cyberspace Affairs Commission, digital healthcare service resources covered a broader range of patients across the nation, with telemedicine being provided more than 26.7 million times. Meanwhile, users of internet-based healthcare surged 21.7 percent year-on-year to 360 million.
By last October, there were over 2,700 internet hospitals nationwide, offering online healthcare services more than 25.9 million times.
A unified national healthcare insurance information platform — China Healthcare Security — was established in 2022. The platform encompasses over 100 functions, covers around 400,000 designated medical institutions and 400,000 designated retail pharmacies, and effectively serves all insured individuals. In 2022, there were 280 million real-name users registered on the CHS, among which 19.81 million were those over 60 years old, said the report.
Also, a survey conducted by the OCCAC in 2022 showed that the awareness and usage rate of China's digital healthcare services grew rapidly. Around 80 percent of the respondents were aware of services such as online payments, self-service machine payments, online inspection report inquiries and online reservations, while 67.7 percent and 62 percent of the respondents, respectively, said that they utilized online payments and self-service machine payments.
"Patients are getting more used to the application of digital technologies in the healthcare sector. This will also be a major trend in the future," Tan said.
Another trend is that internet hospitals are expected to continue to scale up, he said.
China's first internet hospital was established by Hangzhou-based digital healthcare company WeDoctor. In 2015, just before the opening of the second World Internet Conference Wuzhen Summit, Wuzhen Internet Hospital was established by the company in Tongxiang, Zhejiang province. The hospital provided telemedicine, online follow-up visits, digital healthcare record sharing and online diagnoses and prescriptions on a large scale.
With telemedicine, internet hospitals introduce high-quality medical resources from cities, such as Beijing and Shanghai, to local hospitals, so that patients from grassroots-level hospitals are able to get access to treatment plans developed by top experts, and get treated locally. Patients not only enjoy medical insurance reimbursement, but also avoid the hardships of traveling back and forth to get treatment.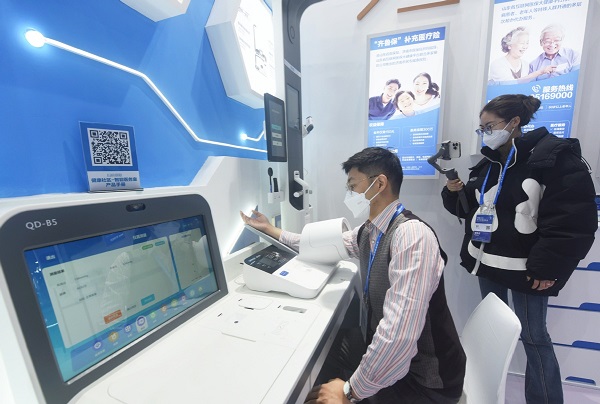 A visitor (left) experiences intelligent diagnosis systems during a digital service expo in Hangzhou, Zhejiang province, in December 2022. LONG WEI/FOR CHINA DAILY
With remote imaging diagnosis centers connected to a large number of grassroots medical institutions, residents can obtain diagnostic reports issued by public 3A-grade hospitals even if they do so locally.
After the hospital issues a prescription, it is automatically uploaded to the prescription review and circulation center. Patients can choose the closest location to pick up their medicines. In addition, facial recognition technology and card-free payment greatly enhance people's healthcare experiences.
Another noticeable trend, according to Tan, is that the healthcare sector is becoming increasingly integrated with AI technologies.
In the past, when encountering major illnesses, after spending a lot of money, patients needed to go to the healthcare insurers' counter and submit a series of forms to get reimbursement.
With the help of AI, patients can obtain commercial healthcare insurance claims more quickly. For example, when AI-enabled technology platforms are docked with huiminbao — a commercial healthcare insurance that supplements government healthcare insurance — patients no longer need to go through tedious processes to get insurance claims processed.
Everything can now be done online. AI-enabled optical character recognition technology carries out image sorting and recognition, guiding patients to upload materials needed for claims, so as to avoid erroneous or repetitive submissions.
"With the help of digital technologies, on the consumer end, the approval rate of the materials rose 15 percent, while on the approval end, the chance of patients being required to submit supplemental materials was reduced by 50 percent, greatly cutting enterprises' operating costs," said Gu Lingling, product director of Shanghai-based MediTrust Health, the company that developed the AI-enabled technology platform.
"Digital technologies enhance the overall user experience. On the one hand, the platform's visualization tools have created a brand-new experience for users. On the other hand, intelligent technology has gotten rid of a large number of mechanical and repetitive document entry work, as well as errors caused by manual entry," she said.
According to the company, currently, patients can get claims for 70 percent of medicines in a day, with the fastest claim time being 15 seconds. For third-party insurers that adopt the platform, the overall claim time is three days, and the risk control recognition rate of anamnesis is raised to 98 percent.
Gu said, "With digital technologies, intelligent products are developed, costs are reduced and efficiency is increased in the healthcare industry."
In terms of the future development of digital healthcare, she said that disruptive breakthroughs are expected to take place in refined customer management. With data analysis, targeted groups' health risk status and expected future treatment expenditures can be forecast more precisely.
Wang Peng, an associate researcher at the Beijing Academy of Social Sciences, said: "The application prospects of digital healthcare are promising. However, some bottleneck issues still need to be tackled. Currently, medical institutions and technology enterprises are using their own digital systems. It is recommended to establish a unified national digital platform, so that data can be shared and made use of more efficiently. In addition, the development of digital healthcare should be research and development-driven. Enterprises should be encouraged to take part in projects such as key national projects, and the government should offer supportive policies to boost enterprises' motivation."
August 4, 2023

July 27, 2023