Pharma industry eyes healthy business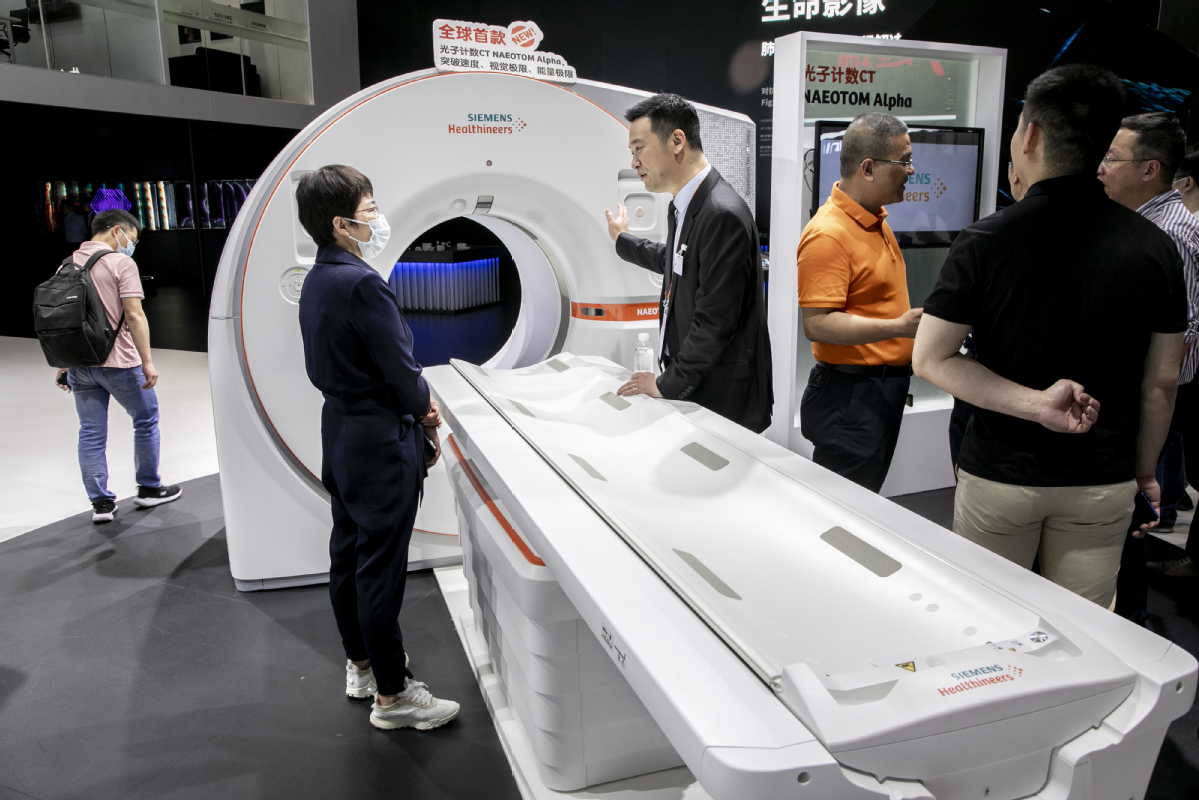 A view of the booth of Siemens Healthineers during an expo in Shanghai. CHINA DAILY
China's pull for foreign pharmaceutical companies will only increase despite uncertainties in China-US relations and the so-called de-risking strategy pursued by some Western countries, business executives and experts said.
Several factors make China attractive, they said. The country's pharmaceutical market is enormous and expanding fast, second only to that of the United States. An aging population, continuous improvements in healthcare accessibility and rising health awareness mark China now.
They further said the Chinese government is determined to improve business environment and facilitate foreign investors' growth through stable economic growth and favorable policies.
For instance, on Sunday, the State Council, China's Cabinet, released a policy document stipulating 24 guidelines to improve business environment and attract foreign investment. Part of the larger goal is to speed up the construction and operations of foreign-invested biomedicine projects and encourage foreign-funded enterprises to carry out clinical trials of overseas marketed cell and gene therapy medicines on the Chinese mainland, in accordance with the law.
The new drug application procedure for overseas marketed drugs to be produced and launched on the mainland will be optimized.
Ever since China optimized its COVID-19 response in January, top executives of global pharmaceutical companies — US-based Pfizer, the United Kingdom's AstraZeneca, France's Sanofi and Germany's Bayer — have visited the country.
More are expected to visit in the second half, to confirm their companies' commitment to the China market.
Flora Zhu, director of China Corporate Research at Fitch Ratings, said such visits suggest that "China remains an important market for their growth, underpinned by promising sales growth prospects. Lower production costs, sophisticated supply chains, improving domestic R&D competence and widening market access for innovative drugs, have also contributed to the increasing interests from multinational pharmaceutical companies to participate and expand business in China.
Olivier Charmeil, executive vice-president and head of general medicines at Sanofi, said: "Based on our optimistic estimate of China's economic development, we have reemphasized the importance of China in our global strategy … and will continue to invest in the local market, improve our strategic layout and strengthen strategic cooperation."
Sanofi set up its Digital Innovation Hub in Shanghai in 2018, which has grown into a major incubator for local startups with innovative ideas. The company has already introduced more than 40 innovative products and solutions spanning prevention and chronic disease management to specialty care and self-care in China.
Charmeil said Sanofi will advance rapid market entry of innovative products. Its plan for 2020-25 is to introduce more than 25 innovative products in China. The company is exploring innovative models for management of chronic diseases as well as reinforcing innovation expertise in early-stage research and development with key partners in the country.
In June, Pfizer China announced that it will establish an innovation center in Hangzhou, Zhejiang province. Jean-Christophe Pointeau, president of Pfizer China, said the innovation center aims to empower the healthcare industry in China with digital innovation and help solve industry challenges with mobile solutions.
Dong Minsheng, executive chairman and CEO of the China branch of Menarini, said the Italian biopharmaceutical company is eager to tap opportunities arising from China's stable growth, urbanization and the increase in people aged 60 and above. Menarini will increase investment and strengthen cooperation in China to better meet patients' demand for both medicine and digital healthcare.
In light of the recent US ban on investment in China's tech sector, Zhu with Fitch Ratings said the impact on pharmaceutical industry should be limited given that it is less of a so-called national security concern.
October 18, 2023

October 16, 2023

October 9, 2023
October 16, 2023